Defence against the dark arts: how to spot fake volume on cryptocurrency exchanges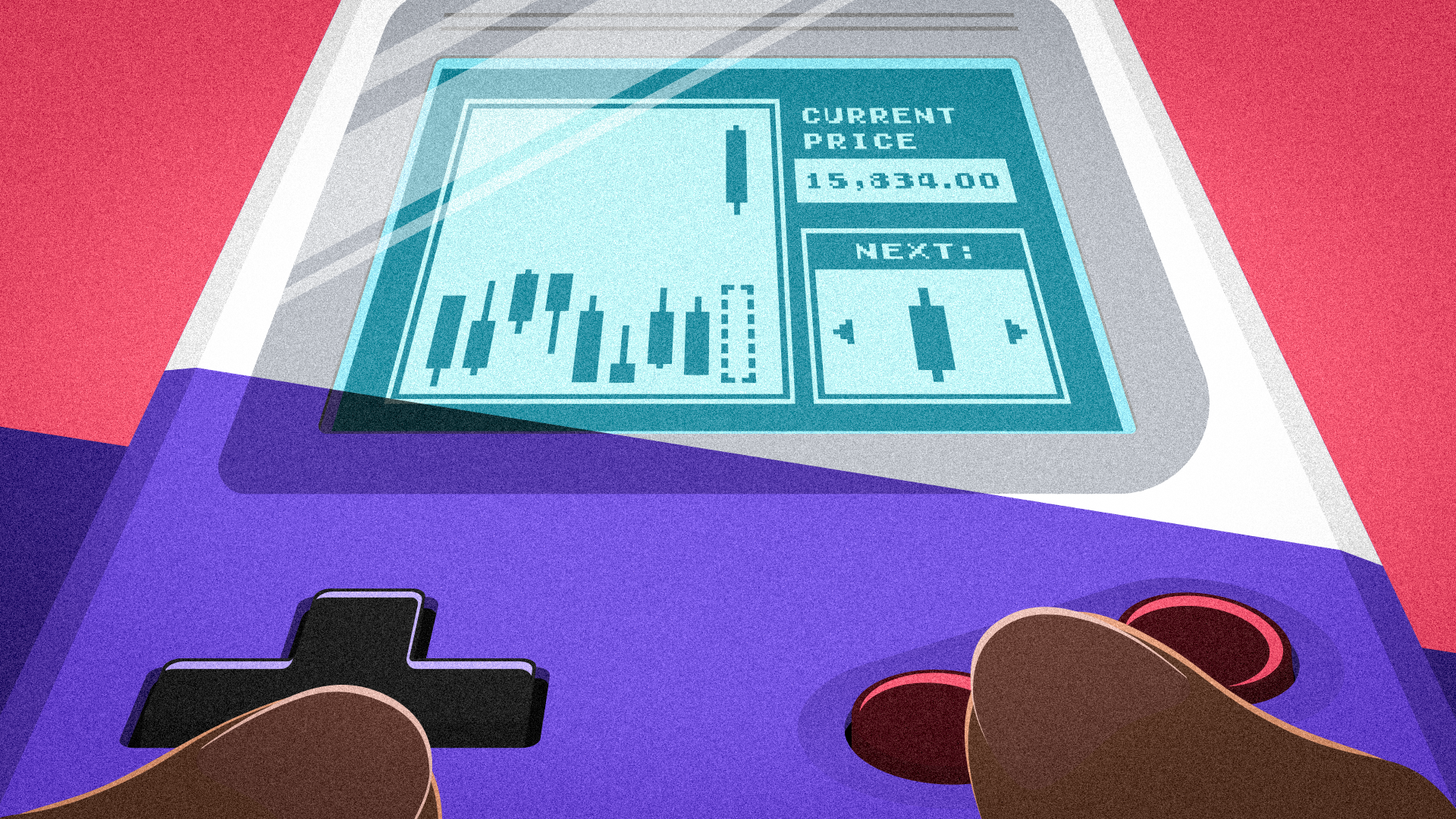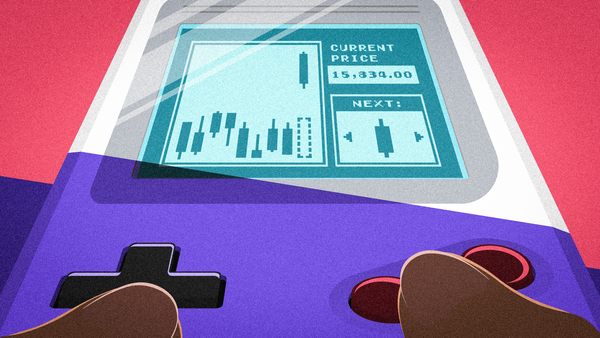 In early 2019, a report by Bitwise to the U.S. Securities and Exchange Commission put forward a bold statement which at the same time failed to surprise anyone, "95% of all reported bitcoin trading volume is fake". Since then Bitwise have followed up their much-publicised report with an update mentioning, "the presence of widespread fake volume in reported bitcoin buy and sell data is now widely understood."
Let's take a look at the initial report's findings in the Australian cryptocurrency exchange context.
What is fake volume?
When you trade, you're usually meeting other parties who have slightly different expectations of how much and at what price you want to trade. This leads to normal market activity of buyers and sellers filling some of those expectations on an exchange. Fake volume happens when buy and sells happen at the same price, at the same time, for the same amount. Hence an exchange between parties isn't really happening, just the appearance of it as both parties are colluding.
Sometimes referred to wash trading, it is illegal in traditional exchange markets as it sends false signals that there are more willing market participants than there actually are.
Why fake volume?
A busy market gives confidence to people who want to buy and sell on an exchange that they'll find a counterparty that can fill their order.
If you want to make a token or ICO project look popular, you could attempt to fake volume to make it look like the most popular asset on the block.
Exchanges also can point to high trading volumes to entice projects to list on their exchange, often times in return for listing fees. They also do this to climb the ranks in CoinMarketCap and other exchange rankings – it's a way of (false) advertising.
How to tell?
It's not always apparent if trades are fake. Automated trading or 'bots' are common and in some cases, an identical fill might be a result of different trading strategies implemented by the same party. Volume can also be routed through different providers or multiple market-making accounts. Liquidity can be shared through orderbooks as well.
The Bitwise report highlighted 'multiple hours (and days) with zero volume' as a potential signal of fake volume. In the examples below, 4-hour volume charts on CoinJar Exchange are compared to two other Australian exchanges.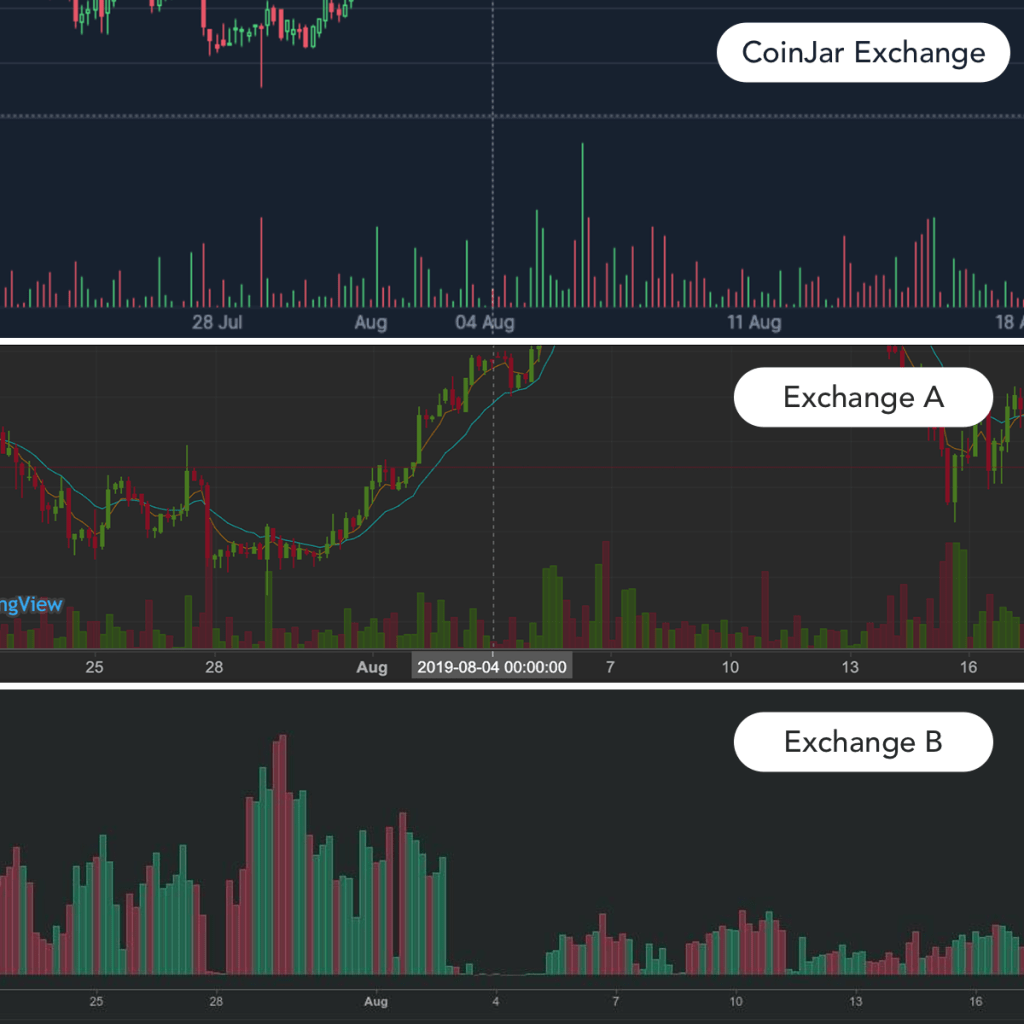 While CoinJar Exchange and Exchange A see consistent organic patterns of activity over the the period of 3-4 August, Exchange B sees a sharp drop-off. If you look closely there still are some trades occurring at Exchange B, indicating that this was not a total outage of the platform but perhaps revealing their true level of market activity. This is not the only instance of this behaviour evident on this platform, a similar instance occurring 4-5 September.
While inconclusive in itself of fake volume, websites like CoinGecko and even CoinMarketCap itself have attempted to better portray accuracy of exchange volume with additional factors such as website traffic and price spreads taken into consideration.
Lofty promises of high trading activity should also be reflected in the size and influence of a company running the exchange.
Does it matter?
The presence of inflated volumes is not particularly newsworthy in itself. However, questionable practises such as this should form the basis of which exchange and services you wish to trade on. If they are faking their volume, what else are they being less than honest about?
Start trading on CoinJar Exchange today, use the Crypto OTC Trading Desk and download the new CoinJar for iOS and Android apps to keep track of your crypto portfolio.
---
Don't invest unless you're prepared to lose all the money you invest. This is a high‑risk investment and you should not expect to be protected if something goes wrong. Take 2 minutes to learn more: www.coinjar.com/uk/risk-summary.
Cryptoassets traded on CoinJar UK Limited are largely unregulated in the UK, and you are unable to access the Financial Service Compensation Scheme or the Financial Ombudsman Service. We use third party banking, safekeeping and payment providers, and the failure of any of these providers could also lead to a loss of your assets. We recommend you obtain financial advice before making a decision to use your credit card to purchase cryptoassets or to invest in cryptoassets. Capital Gains Tax may be payable on profits.​​
CoinJar's digital currency exchange services are operated in Australia by CoinJar Australia Pty Ltd ACN 648 570 807, a registered digital currency exchange provider with AUSTRAC; and in the United Kingdom by CoinJar UK Limited (company number 8905988), registered by the Financial Conduct Authority as a Cryptoasset Exchange Provider and Custodian Wallet Provider in the United Kingdom under the Money Laundering, Terrorist Financing and Transfer of Funds (Information on the Payer) Regulations 2017, as amended (Firm Reference No. 928767).