Announcing 0% taker fees on CoinJar Exchange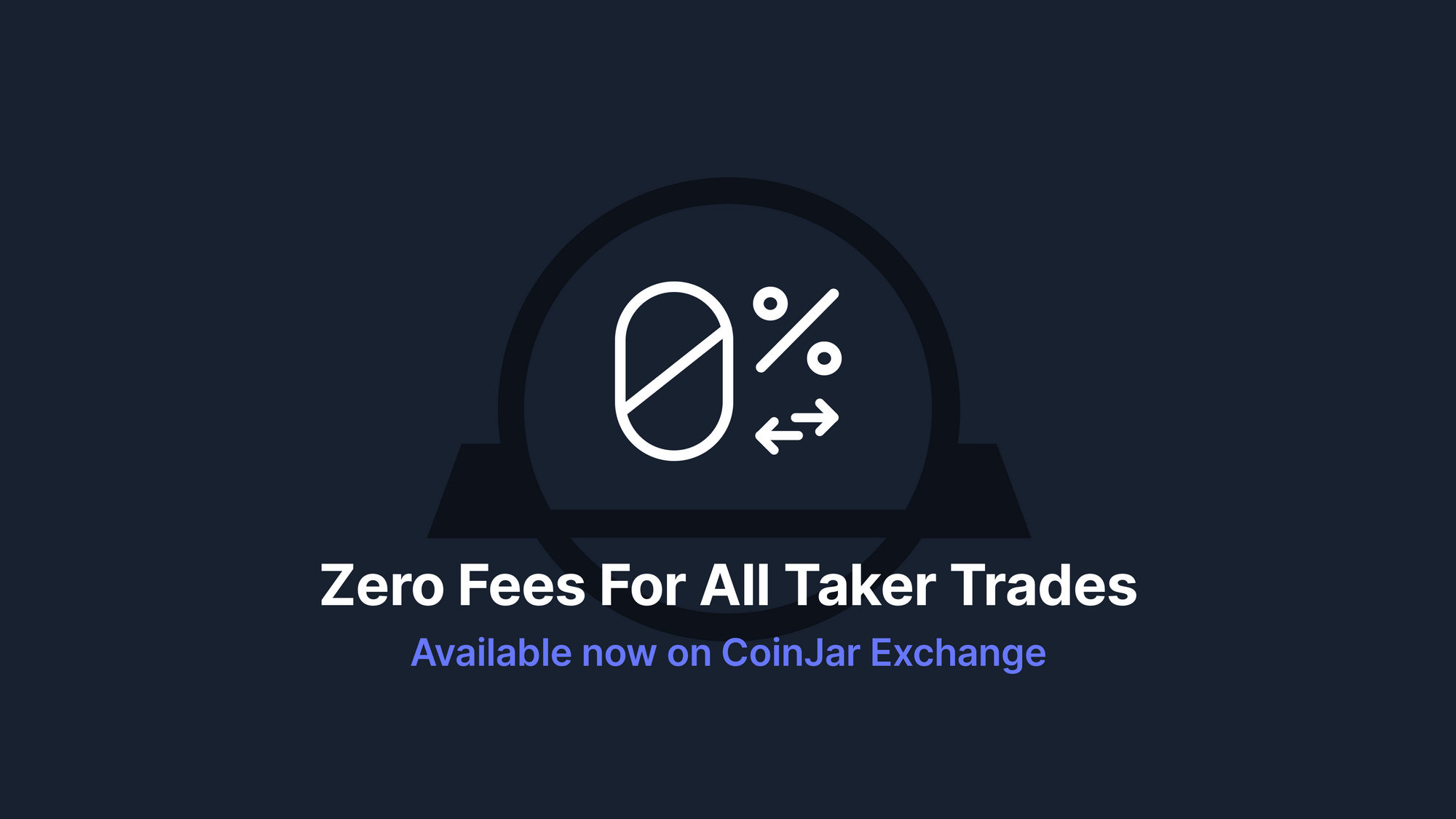 Ready to buy the dip? CoinJar Exchange is now offering 0% fees on all "taker" trades. This applies to every trading pair on our platform, including crypto-to-fiat pairs such as BTC/AUD and ETH/GBP – making us one of the first exchanges in the world to offer zero-fee fiat trading.
But don't worry if you're a market "maker" instead, because our fees are still among the lowest in Australia or the UK.
With 94 trading pairs, extremely low fees and a proprietary implied matching system that means you get the best price every time, there's no better place to buy and sell crypto.
What do "taker" and "maker" mean?
A taker is someone who buys or sells their crypto at the current price, for instance by executing a market buy. They're called a taker because they're taking liquidity from the market.
Market makers place buy or sell orders – known as limit orders – at a price below or above the current price, thus making the market by adding depth and liquidity.
Free and fast bank withdrawals
You also won't pay any fees when you deposit or withdraw cash from your account using BPAY, PayID or Faster Payments. Get cash in your bank account for free, in minutes.
About CoinJar Exchange
CoinJar Exchange is an advanced trading platform designed for CoinJar users who want greater control over buying and selling cryptocurrency. This includes the ability to set order prices, as well as a Trading API to manage your accounts, orders and trades.
If you want to learn more about CoinJar Exchange, you can read our dedicated Knowledge Base article, explore the CoinJar Exchange interface or take your first steps towards using CoinJar Exchange.
If you have any further questions, please feel free to reach out to CoinJar Support.
CoinJar Team
Like many investments, cryptoassets carry risk. Given the potential price volatility which can be extreme, the value of your cryptoassets may fall rapidly or over time. Cryptoassets are also currently unregulated by the FCA and you are unable to access the Financial Services Compensation Scheme or the Financial Ombudsman Service.