Spotting a crypto scam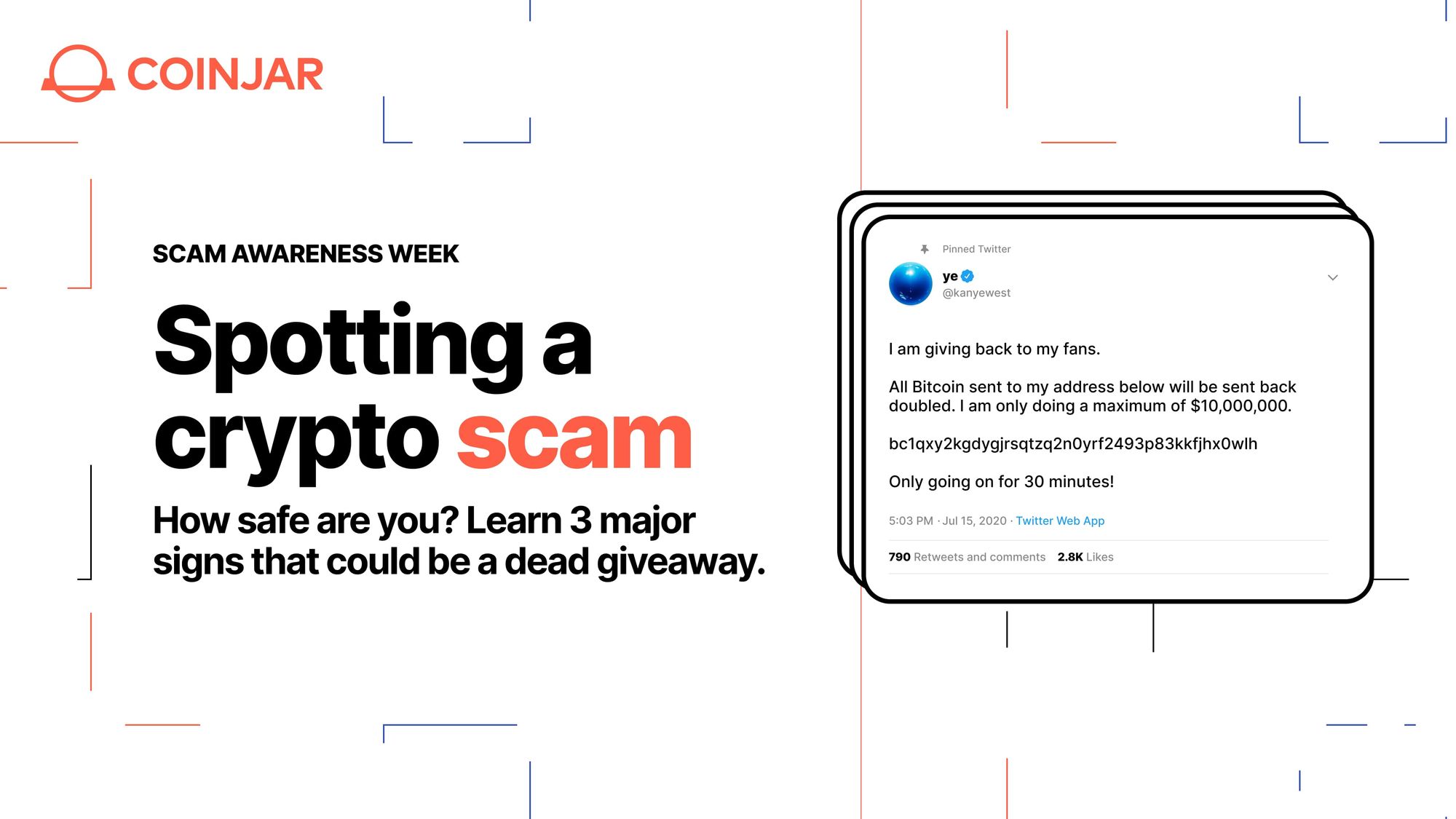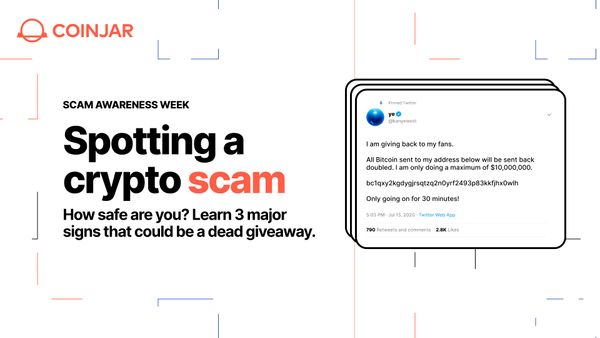 Scams are on the rise. In 2022 it's expected that more than 1 million Australians will lose a collective $4 billion to scams, an increase of 100% on the previous year.
CoinJar has partnered with Scams Awareness Week and ACCC to shed some light on the who, what and how of crypto scams – and how you can spot them in the wild.
On Wednesday you'll get the chance to test your scam spotting skills for the chance to win a Ledger Nano S to help keep your crypto safe.
But today we want to run through 3 major signs that the call or message you just received might be a scam. As always, when it comes to staying safe online just remember the simple motto: don't trust, verify.
Sign #1: Urgency
A growing trend involves scammers on WhatsApp pretending to be a family member or friend who needs an urgent transfer of money/crypto because they've had an accident or are otherwise in trouble.
These scams work because they leverage your emotional attachment to the person to the point that you don't stop to question the likelihood of what's actually happening.
In general the more urgent the request the more you should stop to ask:
Is this person who they say they are?
How can I verify their identity?
Is it normal that they would contact me like this, using this number?
Why is it so important that the transfer is made immediately?
Sign #2: Personal Information
Scammers will often use personal information – i.e. your full name, date of birth, address – to make it appear as if they're from an organisation you trust.
As a general rule, companies will NEVER call or message you asking for your personal details, no matter how much they seem to know about you or your affairs.
If in doubt, hang up and call or message the company back through official channels.
Sign #3: Too Good To Be True
Fraudulent investment schemes are by far the single largest single category of scams, with losses expected to top $2 billion in 2022.
These scams typically rely on fake celebrity endorsements and guarantees of outlandish returns to reel people in. They can have sophisticated websites and user dashboards to make it seem as if your investment is seeing huge profits. But when you try and withdraw your money, it turns out it was only ever numbers on a screen.
Nobody, whether in crypto or traditional finance, can guarantee persistently high returns. Anyone who says they can is almost certainly trying to take your money.
If in doubt...
Crypto scammers are continuously changing and refining their techniques, so the best thing you can do is approach everything involving your crypto with a healthy degree of scepticism.
If you're unsure about something, contact CoinJar Support. We're constantly monitoring suspicious wallets and websites and can help you work out whether something is a scam or not.
Stay safe,
The CoinJar Team
---
Don't invest unless you're prepared to lose all the money you invest. This is a high‑risk investment and you should not expect to be protected if something goes wrong. Take 2 minutes to learn more: www.coinjar.com/uk/risk-summary.
Cryptoassets traded on CoinJar UK Limited are largely unregulated in the UK, and you are unable to access the Financial Service Compensation Scheme or the Financial Ombudsman Service. We use third party banking, safekeeping and payment providers, and the failure of any of these providers could also lead to a loss of your assets. We recommend you obtain financial advice before making a decision to use your credit card to purchase cryptoassets or to invest in cryptoassets. Capital Gains Tax may be payable on profits.​​
CoinJar's digital currency exchange services are operated in Australia by CoinJar Australia Pty Ltd ACN 648 570 807, a registered digital currency exchange provider with AUSTRAC; and in the United Kingdom by CoinJar UK Limited (company number 8905988), registered by the Financial Conduct Authority as a Cryptoasset Exchange Provider and Custodian Wallet Provider in the United Kingdom under the Money Laundering, Terrorist Financing and Transfer of Funds (Information on the Payer) Regulations 2017, as amended (Firm Reference No. 928767).