How to send cryptocurrency to external addresses safely using CoinJar
Once you buy bitcoin, other cryptos or make a crypto OTC Trading Desk trade, there may be times when you need to send cryptocurrency to an external address. You may be making a payment or moving funds between your cryptocurrency wallets. Whatever the reason, there are a few things to keep in mind when sending digital currencies to external addresses.
Here's how to send cryptocurrencies safely using CoinJar, and a few tips on keeping your funds as secure as possible.
Sending payments from your CoinJar to external addresses
When you have funds available in your CoinJar, you will be able to send these funds to external addresses. Sending cryptocurrency payments to any external address will send your funds via the blockchain of your chosen currency (Bitcoin, Ethereum etc…).
Below is a step by step guide on how to use your CoinJar to send payments to external addresses.
Sign in and select the Payments tab.
Select the account you would like to send from.
Enter the appropriate cryptocurrency addresses under 'send to' (Sending digital currency payments from your CoinJar)
Enter the amount you wish to send and select 'Review and Confirm'.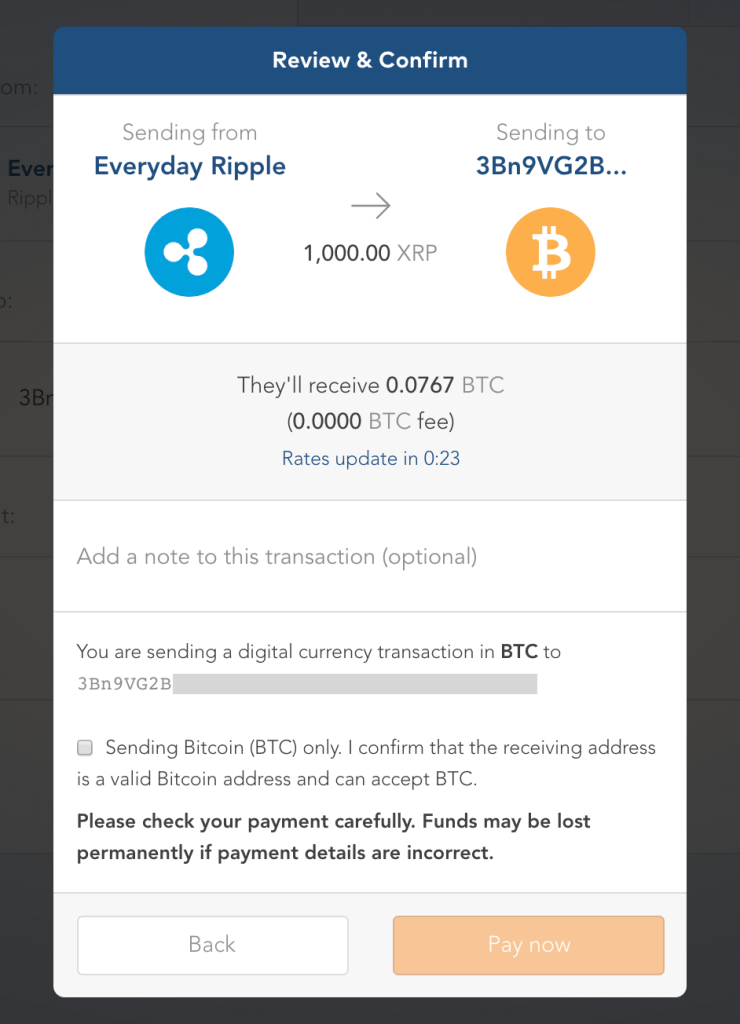 CoinJar fees when sending cryptocurrency
When transferring funds from your CoinJar to an external cryptocurrency address, a transaction fee is required in order for your transfer to be completed promptly. Including an appropriate fee to your transfer will directly influence the time it takes for that amount to be confirmed on the blockchain.
Transaction fees are in place to provide miners with an incentive to process transactions on the blockchain. Miners are rewarded for processing blocks that enable transactions to occur – without miners, the blockchain wouldn't be secure.
CoinJar will automatically attach an appropriate transaction fee depending on the amount of cryptocurrency you're sending and the current blockchain congestion level. This fee is calculated to ensure your transfer receives confirmations on the blockchain as promptly as possible.
Best practice tips when making payments using cryptocurrency
Send small test amounts to any digital address you're sending to for the first time
Cryptocurrency addresses are long, difficult to remember and no two are the same. However, side by side addresses can look very similar and therefore it is easy to mix up one address for another.
It is more common than you think to make a mistake when sending funds to correct addresses. In most cases, sending funds to the wrong address can be frustrating as there is no way to retrieve funds once they have been sent. This is due to the decentralised nature of the blockchain.
Before sending a large amount of your cryptocurrency, It's usually a good idea to send a small test amount first and confirm the funds are received before sending the rest of your currency*.
Don't rely on a chargeback or refund process to recover lost cryptocurrency
As long as fiat currency has existed, there have been processes in place to protect them. When fiat currencies are transferred to the wrong account, banking institutions are able to issue chargeback requests to the receiving account to return those funds to the original owner.
This is where cryptocurrencies differ significantly from fiat currencies. Because cryptocurrencies use blockchain technology to register, verify and confirm transactions, once transactions have been confirmed on the blockchain they are irreversible. When your funds have been sent, you no longer have any claim to them. There is also no centralised entity that can accept a chargeback claim when using the blockchain to send funds. This is why it is always important to triple check and send a test amount to the address you are sending funds to.
Understand confirmation times and why these are important
Once your transaction has hit the blockchain it will need to be confirmed and validated by miners working on the network. Transactions need to be confirmed to keep the network secure and prevent fraud (double-spend). To double-spend means spending the same money more than once. In its simplest form, a double spend is when you send two conflicting transactions to the Bitcoin blockchain, one to yourself and one to your recipient – both for the same amount.
Confirmation times vary depending on how many people are attempting to transfer funds using the blockchain network at one given time. This can take from a few seconds to a few hours depending on the network (Bitcoin, Ethereum, Litecoin, and Ripple).
The time it takes to mine blocks and validate transactions varies depending on the network of the currency you are sending. This is because each network has a different protocol and size of blockchain e.g the bigger the blockchain the faster your transaction will be confirmed.
If you are unsure or suspicious of anything, or if you have any questions at all, please reach out to our Customer Support team at support@coinjar.com
*At CoinJar outgoing bitcoin transfers will fail to send if the amount being sent is below our system's minimum requirement of 0.00005460 BTC
---
Don't invest unless you're prepared to lose all the money you invest. This is a high‑risk investment and you should not expect to be protected if something goes wrong. Take 2 minutes to learn more: www.coinjar.com/uk/risk-summary.
Cryptoassets traded on CoinJar UK Limited are largely unregulated in the UK, and you are unable to access the Financial Service Compensation Scheme or the Financial Ombudsman Service. We use third party banking, safekeeping and payment providers, and the failure of any of these providers could also lead to a loss of your assets. We recommend you obtain financial advice before making a decision to use your credit card to purchase cryptoassets or to invest in cryptoassets. Capital Gains Tax may be payable on profits.​​
CoinJar's digital currency exchange services are operated in Australia by CoinJar Australia Pty Ltd ACN 648 570 807, a registered digital currency exchange provider with AUSTRAC; and in the United Kingdom by CoinJar UK Limited (company number 8905988), registered by the Financial Conduct Authority as a Cryptoasset Exchange Provider and Custodian Wallet Provider in the United Kingdom under the Money Laundering, Terrorist Financing and Transfer of Funds (Information on the Payer) Regulations 2017, as amended (Firm Reference No. 928767).