Safer than a Stark Wedding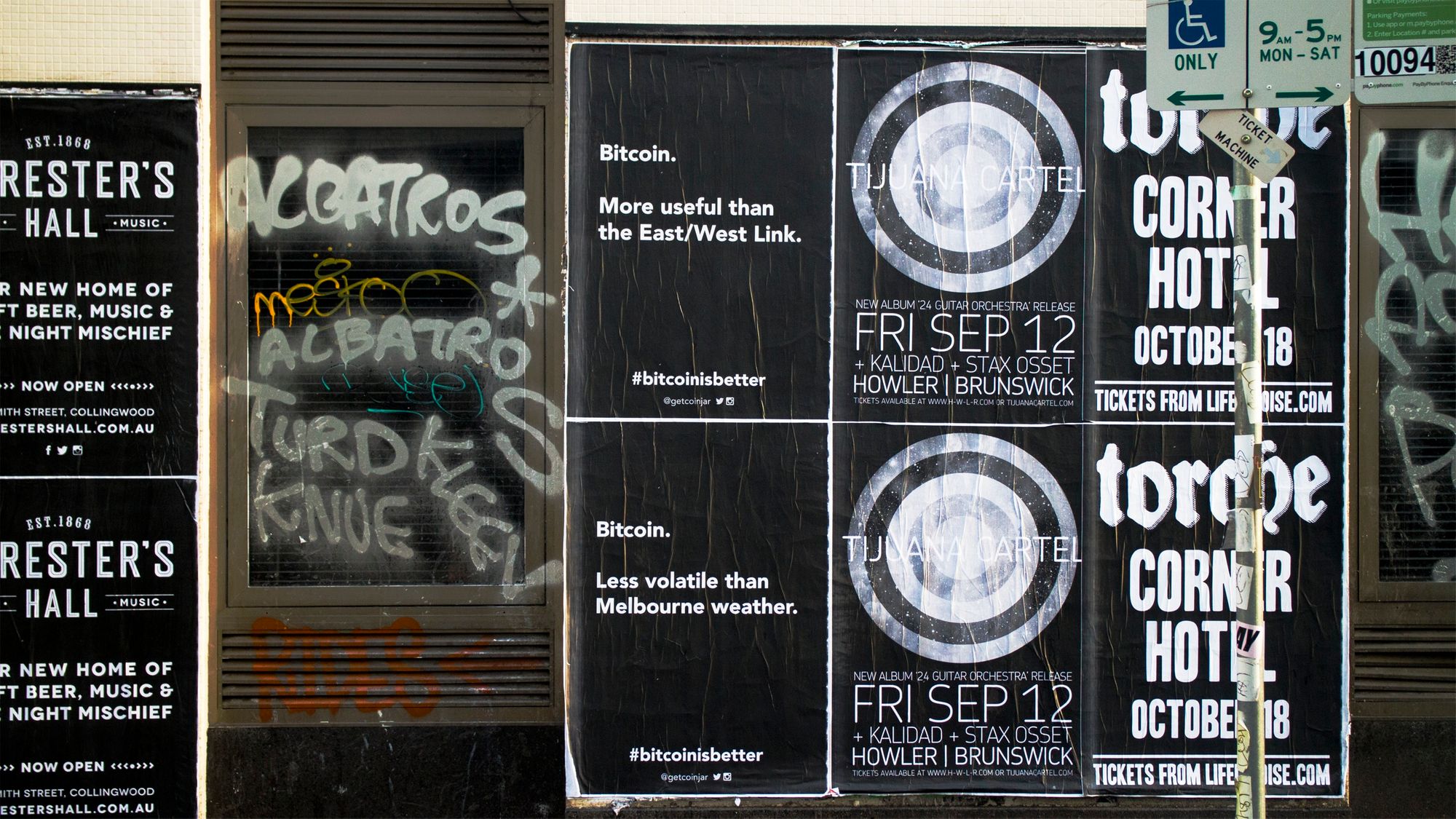 Our resident marketing lead Sam breaks down our #bitcoinisbetter campaign.
At CoinJar we like to have fun. So when we discovered Distroprint, a poster distribution group that accepts bitcoin, we thought it would be a good opportunity to get the bitcoin conversation going in everyday life.
After some brainstorming, we decided to run a series of 'public service announcement' style posters comparing bitcoin to things people deal with every day. The goal was to contrast and suggest bitcoin isn't as hard or scary as people might think.
The posters went out all over Sydney and Melbourne, and people were tweeting, instagramming and talking to us about all the different posters.  Here are some of our favourites.
Safer than a Stark wedding.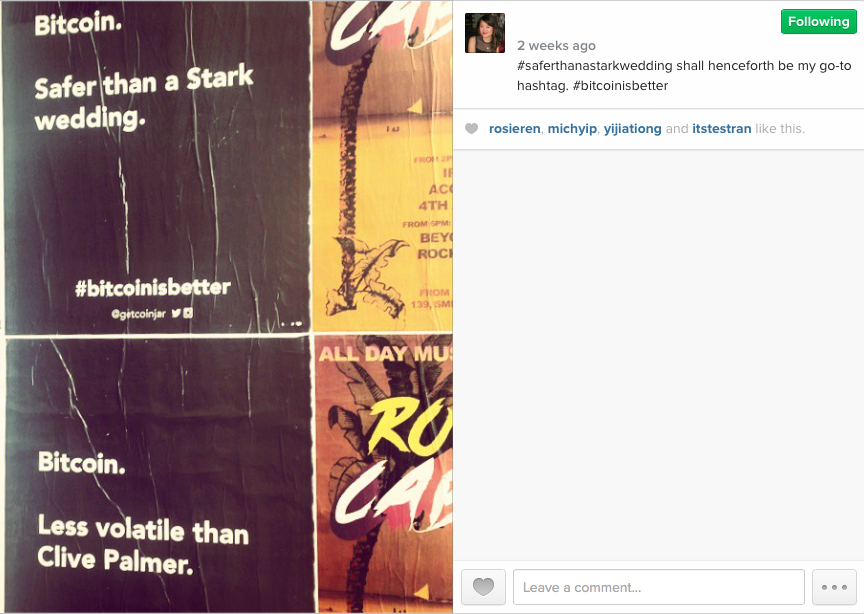 This was definitely the crowd favourite. Combine bitcoin, Game of Thrones and guerrilla marketing and you definitely have a winning combination. Admittedly, it was a bit silly, but we figured if you can handle the stress of the Red Wedding, you can definitely handle some of the ups and downs bitcoin has had this year.
Less volatile than Clive Palmer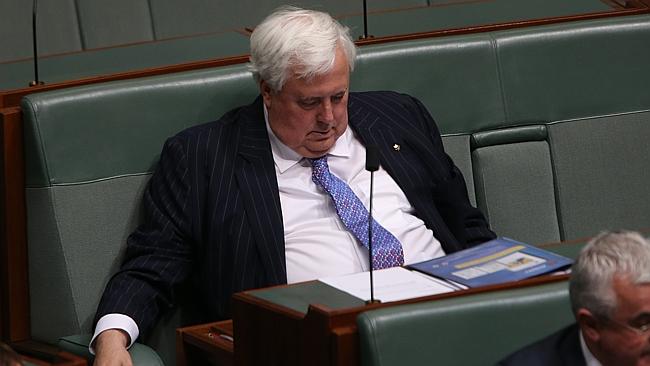 This guy changes direction more often than a broken helicopter. We figured if people could handle him helping run the country, they could handle the odd little bitcoin price swing.  My lawyer friend told me he probably can't sue us because the statement 'volatile' is pretty accurate.
Easier to understand than Sydney roads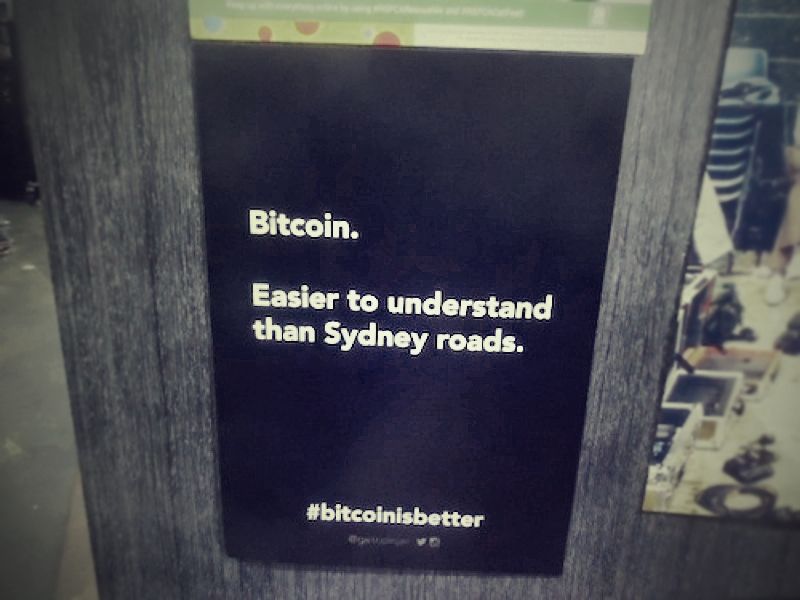 Some of the CoinJar team were in Sydney the other week, and it's safe to say we were lucky to get out alive.  I had cab drivers asking me for directions!  If Sydneysiders can navigate their road network, they can definitely navigate the Blockchain.  Side note – we attended the Sydney Meetup. Sydney's bitcoin community is doing some really interesting stuff.
More useful than the East / West link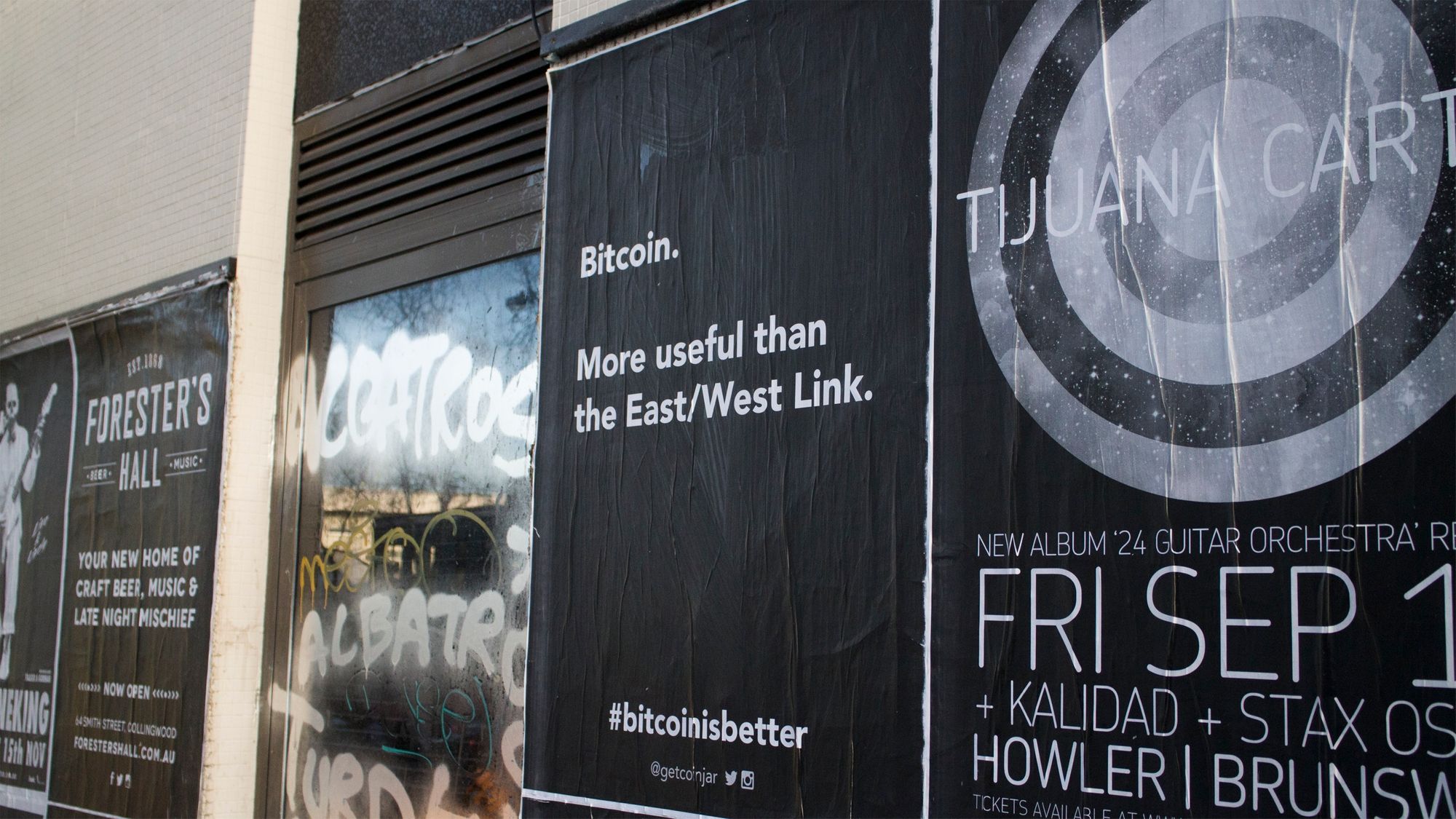 This is a sore point for us Melbournites, as a lot of people think the money would be better spent on public transport.  We really wanted to make the point that the government tends to push money into outdated infrastructure projects.  Something we love about bitcoin is that it is self-organising and crowdsourced, both in resource and capital. This means that resources can't be allocated without a true technical consensus. Alongside this, the infrastructure of Bitcoin facilitates a global and digital economy. The poster spurred a hashtag of other things more useful than the East West link.
Less confusing than Newtown fashion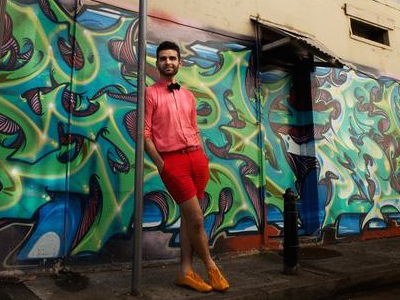 Seriously, what's going on in that ultra-hip Sydney suburb?  To be clear, we love self-expression through fashion, and Newtown does have some pretty funky dressers. But if you can get your head around the nuances of style coming from Newtown, you can definitely figure out how to set up a CoinJar wallet. Now we just need to find an op-shop that will take bitcoin and we're set.
Less volatile than Melbourne weather
Melbourne is renowned for having weather that constantly changes, so who better to handle the sometimes hot and sometimes cold bitcoin world than a Melbournian?

What came next?
Aside from getting conversations going (I had numerous people that never talk about bitcoin ask about it), we made the point that bitcoin isn't as scary, hard or unpredictable as people think. In fact, they deal with much trickier stuff every day. Thanks to this we were then able to deliver the message about why bitcoin matters, and what CoinJar is doing to help through organic conversation. We also got to make fun of Clive Palmer which felt great.
'till next time..
We've been working really hard on a whole new product set which we've slowly started rolling out, as well as opening up in more countries to knock down barriers for digital finance around the world. Though we are always busy building, we feel it's important to keep the conversation going. We hope that no matter how big CoinJar and bitcoin gets, we never stop having fun. So keep an eye out for our logo and join the conversation at #CoinJarDNA.
---
Don't invest unless you're prepared to lose all the money you invest. This is a high‑risk investment and you should not expect to be protected if something goes wrong. Take 2 minutes to learn more: www.coinjar.com/uk/risk-summary.
Cryptoassets traded on CoinJar UK Limited are largely unregulated in the UK, and you are unable to access the Financial Service Compensation Scheme or the Financial Ombudsman Service. We use third party banking, safekeeping and payment providers, and the failure of any of these providers could also lead to a loss of your assets. We recommend you obtain financial advice before making a decision to use your credit card to purchase cryptoassets or to invest in cryptoassets. Capital Gains Tax may be payable on profits.​​
CoinJar's digital currency exchange services are operated in Australia by CoinJar Australia Pty Ltd ACN 648 570 807, a registered digital currency exchange provider with AUSTRAC; and in the United Kingdom by CoinJar UK Limited (company number 8905988), registered by the Financial Conduct Authority as a Cryptoasset Exchange Provider and Custodian Wallet Provider in the United Kingdom under the Money Laundering, Terrorist Financing and Transfer of Funds (Information on the Payer) Regulations 2017, as amended (Firm Reference No. 928767).