Onchain: OMFGTX, Fed's Poker face, and a found fortune?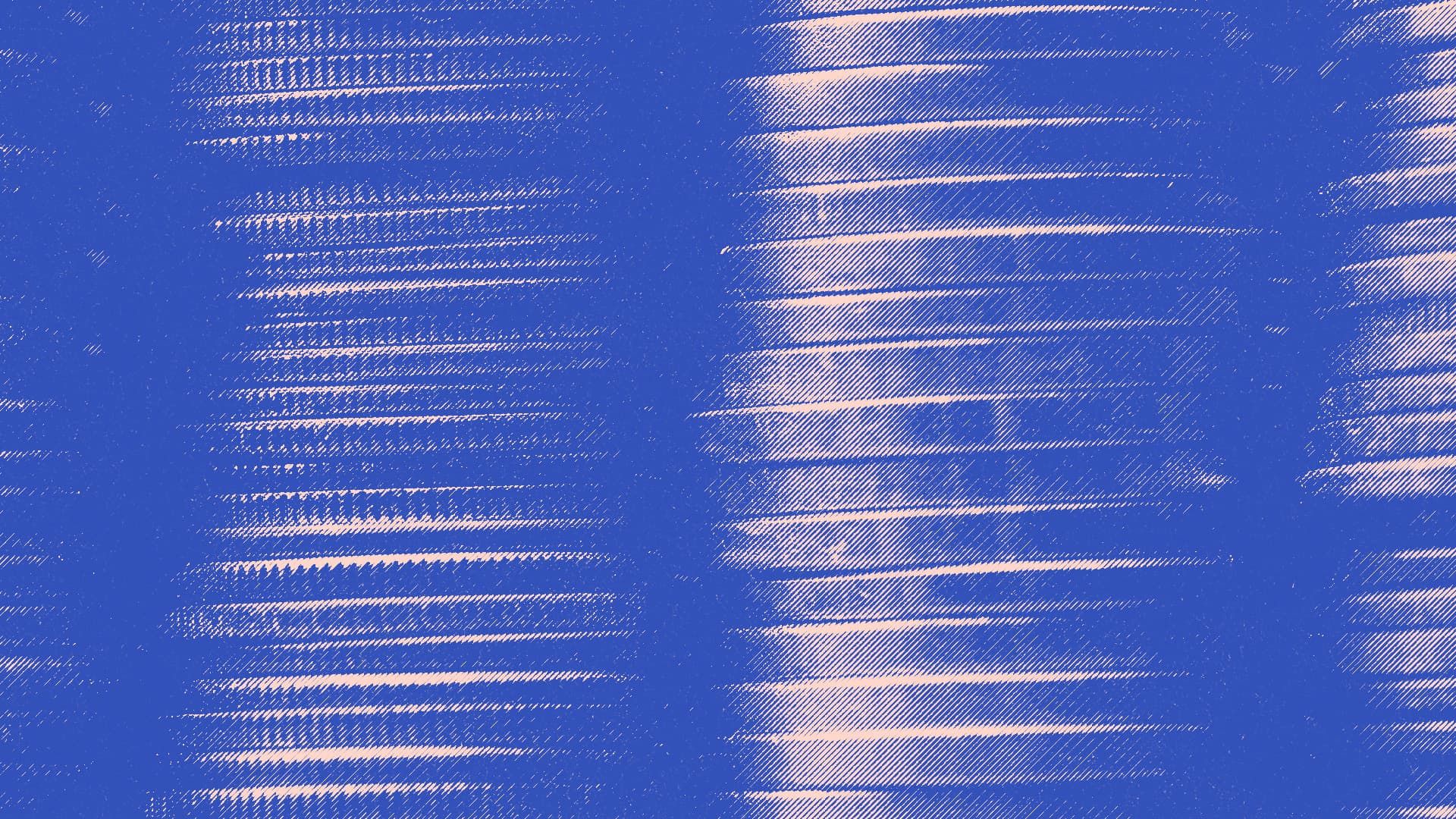 Story One
After F comes G...TX
What comes next after months of laying low in a country which offers no extradition to the US? You make a comeback. An investment deck outlining "cross-asset trading on a public marketplace" which was widely distributed earlier this week caused quite a stir. The founders of this fledgling startup are no other than Kyle Davis and Su Zhu of the now-bankrupt Three Arrows Capital (3AC), joining forces with the founders of CoinFLEX which is currently restructuring. The ask was for $25M of seed funding to get their new exchange to market by the end of February 2023.
As if $3.5B in 3AC creditor claims and the domino effect from their insolvency was not enough, the team decided to double down on spreading misery by naming their new company G...TX. This was not a fat fingered typing mistake haunting us with the horrors of 2022, it shares a very similar name to a failed exchange by design. Could GTX become the hottest "one-stop shop for crypto and stock trading"?
The crypto community was having none of it. While collective scorn was heaped on the pitch deck, the chances of landing $25M for this ambitious exchange is unfortunately not the unlikeliest thing. Just ask WeWork's Adam Neumann who raised an astronomical $350M for his new startup last year.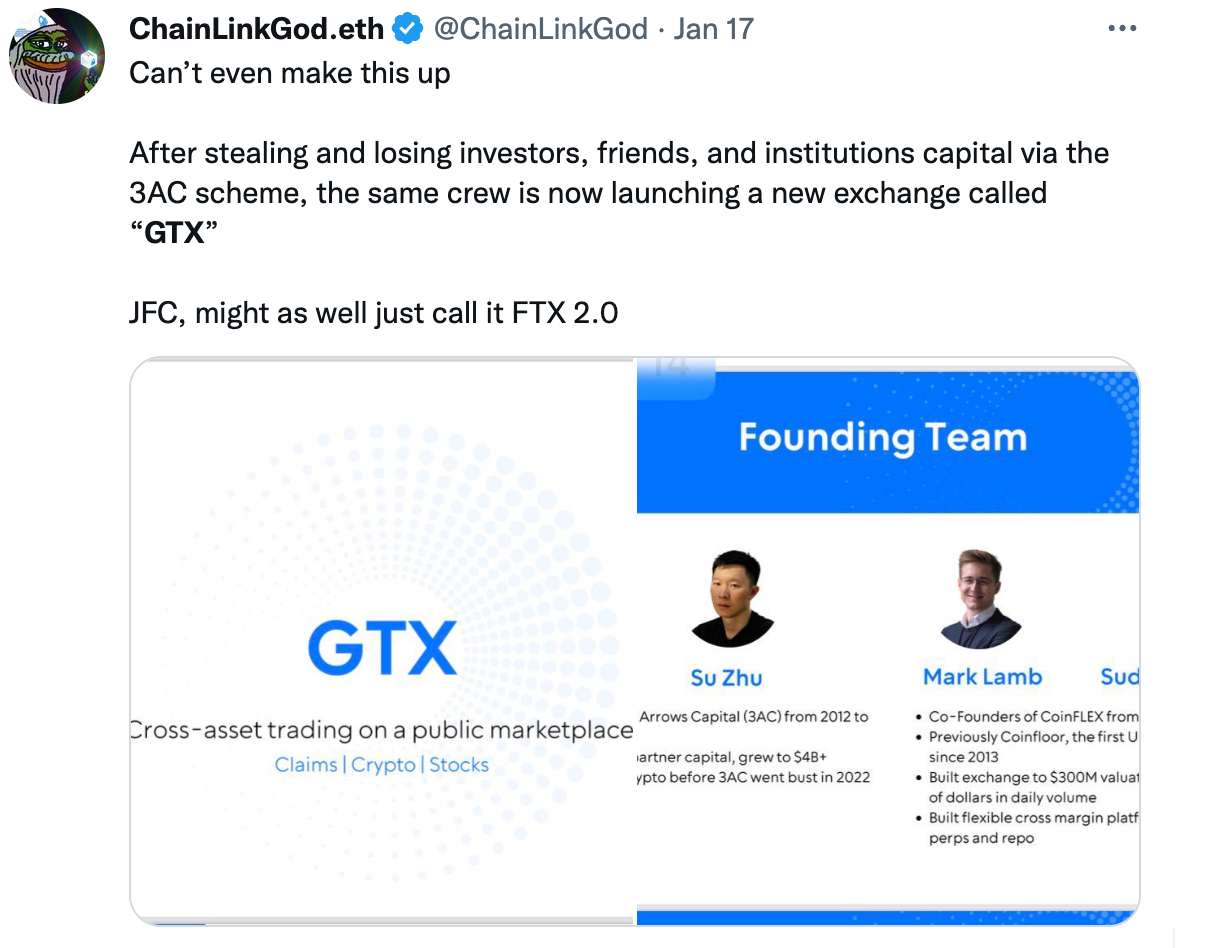 Story Two
Poker-faced Powell reveals... we are not  'climate policymakers'
When Fed Chairman Jerome Powell spoke last Tuesday, crypto enthusiasts waited with bated breath for some indication of which cards he would play.
Unfortunately the speech did not indicate where the Fed's policy (which raised rates seven times in 2022) was heading. Instead Powell was clear in his speech that The Fed will be sticking to its mandate which, to the dismay of investors everywhere, does not include propping up gains in your poorly performing shares portfolio.
In addition to not listening to the views of active subreddits, J Pow also stated that political factors did not influence his actions. This was in reference to some lawmakers' calls for the Fed to use its regulatory powers to attack climate change. Reminding everyone what the Fed's job is, Powell said it would be inappropriate for them to use monetary policy or surveillance tools to promote a greener economy or reach other climate-related goals: "We are not and will not be 'climate policymakers.'"

To sum it up, J. Powell didn't comment on the outlook for the U.S. economy or monetary policy but said he's going to stay in his own lane.
Overheard on Twitter
"1) FTX owns like 80%+ of the FTT float and the liquidators classify it as part of their "liquid" holdings"
@jconorgrogan, Jan 18
Story Three
FTX recovers over $5 billion
The new management at FTX has recovered more than $5 billion in liquid assets. These assets include, "dozens of illiquid cryptocurrency tokens, where our holdings are so large relative to the total supply that our positions cannot be sold without substantially affecting the market for the token." That being said, FTT, FTX's exchange token is still being traded in the wild and is up 85% in the last month (while also being 95% down over the last year). Stranger things have happened.  

Lawyers also said that the organisation plans to sell non-strategic investments to retrieve another $4.6 billion. This does not include 56 million shares of Robinhood, worth about $465 million, which the DOJ has stated it didn't believe were the property of FTX's bankruptcy estate.
Here's the kicker though: the FTX attorney stated that the legal team is still actively working to establish accurate internal records, which means the actual customer shortfall remains unknown. The U.S. Commodity Futures Trading Commission estimated the missing client funds at over $8 billion. In bankruptcy filing documents, between '$1 billion and $10 billion' was the estimated figure checked.
While this news all but guarantees there will be SOME cents on the dollar returned to FTX creditors (as opposed to none), it will still be years before any of those cents are returned. If you're a creditor of a failed exchange (there are a few of them), that's worth keeping in mind.
Amy from CoinJar
---
Don't invest unless you're prepared to lose all the money you invest. This is a high‑risk investment and you should not expect to be protected if something goes wrong. Take 2 minutes to learn more: www.coinjar.com/uk/risk-summary.
Cryptoassets traded on CoinJar UK Limited are largely unregulated in the UK, and you are unable to access the Financial Service Compensation Scheme or the Financial Ombudsman Service. We use third party banking, safekeeping and payment providers, and the failure of any of these providers could also lead to a loss of your assets. We recommend you obtain financial advice before making a decision to use your credit card to purchase cryptoassets or to invest in cryptoassets. Capital Gains Tax may be payable on profits.​​
CoinJar's digital currency exchange services are operated in Australia by CoinJar Australia Pty Ltd ACN 648 570 807, a registered digital currency exchange provider with AUSTRAC; and in the United Kingdom by CoinJar UK Limited (company number 8905988), registered by the Financial Conduct Authority as a Cryptoasset Exchange Provider and Custodian Wallet Provider in the United Kingdom under the Money Laundering, Terrorist Financing and Transfer of Funds (Information on the Payer) Regulations 2017, as amended (Firm Reference No. 928767).