New tokens alert: DOGE, ADA, SOL, XTZ & DOT have arrived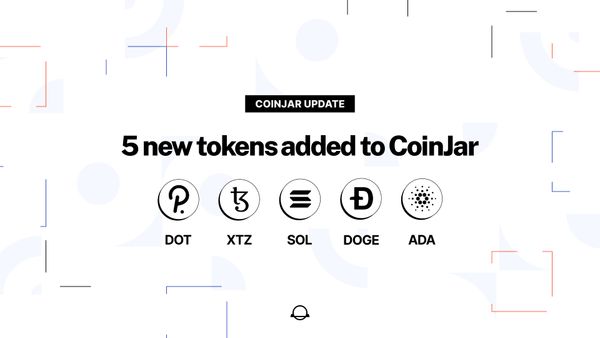 Better late than never. We're thrilled to welcome five of the biggest cryptocurrencies in the world to the CoinJar lineup.
From powerful smart contract platforms to a blockchain of blockchains and a joke that got way out of hand, these five tokens represent more than US$50 billion of value and some of the most important projects crypto has to offer.
From today, you'll be able to buy and sell all of these cryptos on CoinJar, joining the more than 50 other cryptocurrencies that our users can already trade, store, send and spend.
Update your app to get access to the full available range of tokens on CoinJar.
These tokens won't initially be available for purchase through CoinJar Bundles or on CoinJar Exchange, but will be added in the near future.
---
Dogecoin (DOGE) is the original memecoin. Launched back in December 2013 as a parody of the first wave of Bitcoin mania, Dogecoin took as its mascot the Shiba Inu featured in the then omnipresent doge meme (much wow!). Despite having no defined purpose, the community that has formed around Dogecoin is undeniably strong and its low unit price (courtesy of a 132 billion coin supply) and generally tongue-in-cheek nature means that DOGE has become a common entry point for those getting started in cryptocurrency.
Cardano (ADA) is the longest-running Layer 1 alternative (i.e. the smart contract platforms that emerged after Ethereum). Conceived in 2015 by Charles Hoskinson, one of the co-founders of Ethereum, Cardano was intended as a specifically commercial version of ETH and claims to be more distributed, secure and energy efficient than Ethereum. Like ETH, ADA is used to power dApps and pay for transaction costs on the network.
Solana (SOL) is the most widely used smart contract platform behind Ethereum. Using a novel Proof-of-History consensus mechanism in tandem with a traditional Proof-of-Stake model, Solana claims to be the world's fastest major blockchain, with the capacity to process more than 50,000 transactions per second at a per transaction cost of less than $0.01. SOL is used to power dApps and pay for transaction costs. New SOL tokens are distributed to those who stake their coins to help secure the network.
Polkadot (DOT) is the leading layer-0 network – that is, a blockchain whose primary purpose is to facilitate transactions between different blockchains. Polkadot does this by allowing the creation of secure "parachains" that allow you to conduct transactions between blockchains (i.e. Ethereum and Solana). Users use DOT, the native token of Polkadot, to reserve private space on these parachains. When the transactions are completed, the parachain automatically finalises them on their native blockchains.
Tezos (XTZ) is a long-running Layer 1 alternative (i.e. the smart contract platforms that emerged after Ethereum). Like Ethereum, Tezos is used to power an array of web3 dApps, DeFi, NFTs and more. Tezos uses what it calls a liquid Proof-of-Stake consensus mechanism, which operates in a similar fashion to regular PoS systems, but also allows users to loan their token staking rights to others to improve their chances of 'mining' the next block and receiving new XTZ. XTZ is used to power dApps and pay for transaction costs, as well as granting governance voting rights to holders.
Happy Trading!
CoinJar Team
---
Don't invest unless you're prepared to lose all the money you invest. This is a high‑risk investment and you should not expect to be protected if something goes wrong. Take 2 minutes to learn more: www.coinjar.com/uk/risk-summary.
Cryptoassets traded on CoinJar UK Limited are largely unregulated in the UK, and you are unable to access the Financial Service Compensation Scheme or the Financial Ombudsman Service. We use third party banking, safekeeping and payment providers, and the failure of any of these providers could also lead to a loss of your assets. We recommend you obtain financial advice before making a decision to use your credit card to purchase cryptoassets or to invest in cryptoassets. Capital Gains Tax may be payable on profits.​​
CoinJar's digital currency exchange services are operated in Australia by CoinJar Australia Pty Ltd ACN 648 570 807, a registered digital currency exchange provider with AUSTRAC; and in the United Kingdom by CoinJar UK Limited (company number 8905988), registered by the Financial Conduct Authority as a Cryptoasset Exchange Provider and Custodian Wallet Provider in the United Kingdom under the Money Laundering, Terrorist Financing and Transfer of Funds (Information on the Payer) Regulations 2017, as amended (Firm Reference No. 928767).