New tokens alert: LIDO, APE, ENS & 1INCH have arrived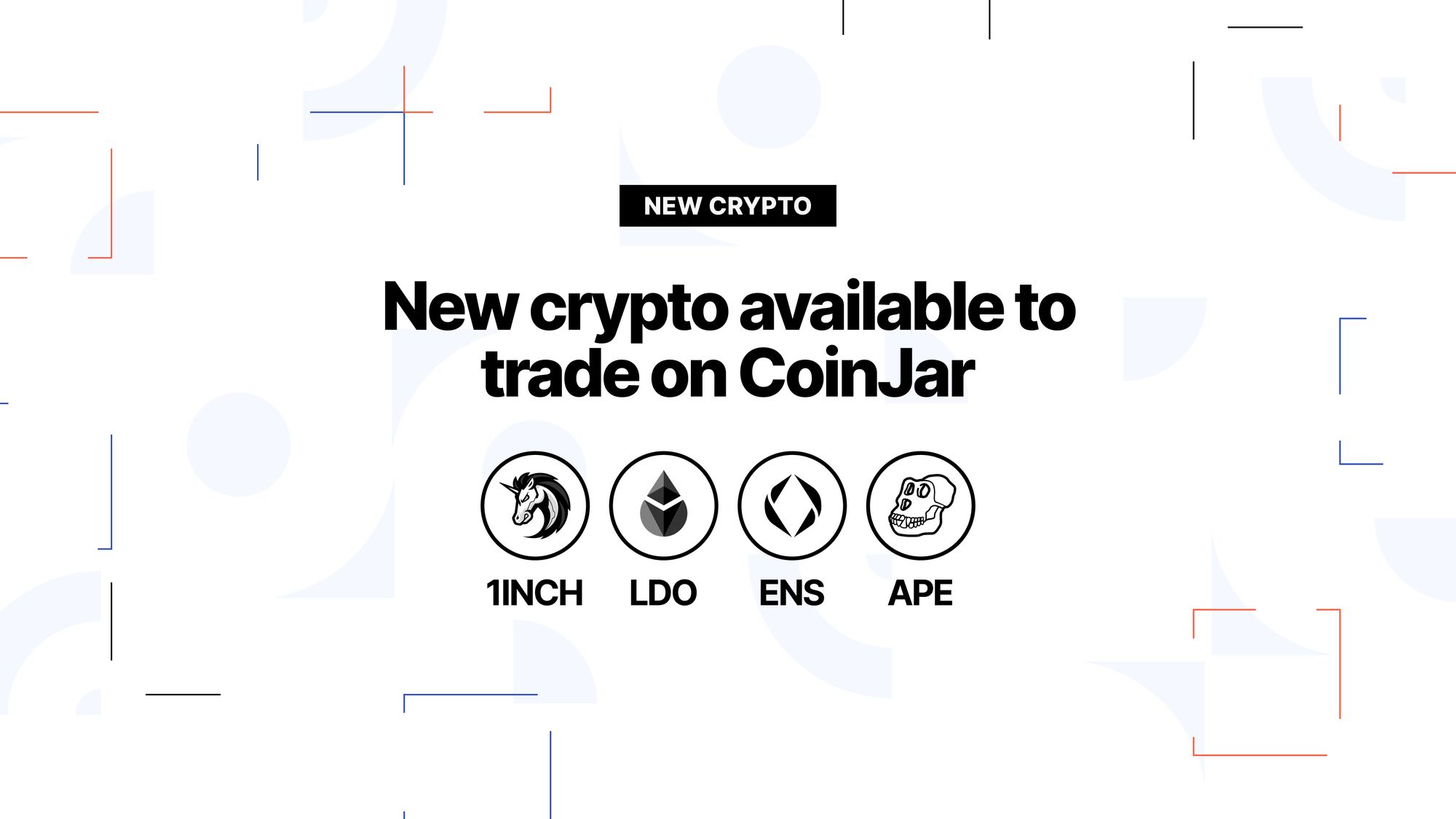 We're thrilled to welcome Lido, Ape, Ethereum Name Service and 1inch to the CoinJar lineup.
From today, you'll be able to buy and sell all of these cryptocurrencies on CoinJar, joining more than 50 other cryptocurrencies that our users can trade, store, send and spend.
Enjoy our free and fast AUD (PayID) deposits. The first deposit might take 1 business day. GBP (Faster Payments) and EUR (SEPA) deposits are also available.
Update your app to get access to the full available range of tokens on CoinJar.
Lido (LDO) is a decentralised finance (DeFi) protocol that offers a liquid staking solution for Ethereum (ETH) holders. With the launch of Ethereum 2.0 and its shift from a Proof of Work (PoW) to a Proof of Stake (PoS) consensus mechanism, users can stake their ETH to help secure the network and earn rewards. However, staking in Ethereum 2.0 has some limitations, such as a minimum staking requirement and long lockup periods. Lido addresses these challenges by allowing users to stake any amount of ETH and receive staking derivatives in the form of Lido's native token, stETH, which can be used across various DeFi platforms.
The Ape token (APE) is a utility and governance token built on the ERC-20 standard and is associated with the Bored Ape Yacht Club NFT collection. Bored Ape Yacht Club is a collection of 10,000 unique NFTs (non-fungible tokens) representing cartoon apes minted on the Ethereum blockchain. Each ape serves as a membership card granting access to various benefits, events, and exclusive content within the BAYC community.
The Ape Token enables token holders to participate in governance and is used in games, services, merch, and as currency within the ecosystem.
The token also incentivises third-party developers to participate in the APE ecosystem by building applications incorporating ApeCoin.
The Ethereum Name Service token (ENS) is built on the ERC-20 standard, serving as a governance token within the Ethereum Name Service community. The primary function of these tokens is to enable ENS community members to propose and vote on changes within the Decentralised Autonomous Organisation (DAO) organisation.
Like Web 2 Domain Name Service (DNS), ENS is a decentralised solution built on the Ethereum blockchain that simplifies long and complex crypto addresses by replacing them with a single, easy-to-read URL, similar to a website name or email address. This system maps traditional lengthy crypto addresses to more user-friendly names, making them easier to remember and share. For instance, an unwieldy address like "0xDC25E998338AF3F5B8A1862ADA83795FBA2D695E" can be converted into a more straightforward format like "CoinJar.eth." ENS applies the same concept as the Domain Name Service (DNS), which maps website names to their IP addresses, making crypto addresses more accessible and user-friendly.
The 1inch token (1INCH) is the native utility and governance token of the 1inch platform, a decentralised exchange (DEX) aggregator in the decentralised finance (DeFi) ecosystem. The 1inch token serves multiple purposes within the platform, including participating in governance decisions, earning rewards through staking, and accessing exclusive features and benefits.
In addition to governance, the 1inch token also plays a role in the 1inch ecosystem by incentivising users to supply liquidity to the platform. By staking their 1inch tokens in various liquidity pools, users can earn rewards in the form of additional 1inch tokens and other supported cryptocurrencies.
These tokens won't be available for purchase through CoinJar Bundles or on CoinJar Exchange but will be added soon.
Happy Trading!
CoinJar Team
---
Don't invest unless you're prepared to lose all the money you invest. This is a high‑risk investment and you should not expect to be protected if something goes wrong. Take 2 minutes to learn more: www.coinjar.com/uk/risk-summary.
Cryptoassets traded on CoinJar UK Limited are largely unregulated in the UK, and you are unable to access the Financial Service Compensation Scheme or the Financial Ombudsman Service. We use third party banking, safekeeping and payment providers, and the failure of any of these providers could also lead to a loss of your assets. We recommend you obtain financial advice before making a decision to use your credit card to purchase cryptoassets or to invest in cryptoassets. Capital Gains Tax may be payable on profits.​​
CoinJar's digital currency exchange services are operated in Australia by CoinJar Australia Pty Ltd ACN 648 570 807, a registered digital currency exchange provider with AUSTRAC; and in the United Kingdom by CoinJar UK Limited (company number 8905988), registered by the Financial Conduct Authority as a Cryptoasset Exchange Provider and Custodian Wallet Provider in the United Kingdom under the Money Laundering, Terrorist Financing and Transfer of Funds (Information on the Payer) Regulations 2017, as amended (Firm Reference No. 928767).