New tokens alert: AVAX, TRX & ETC have arrived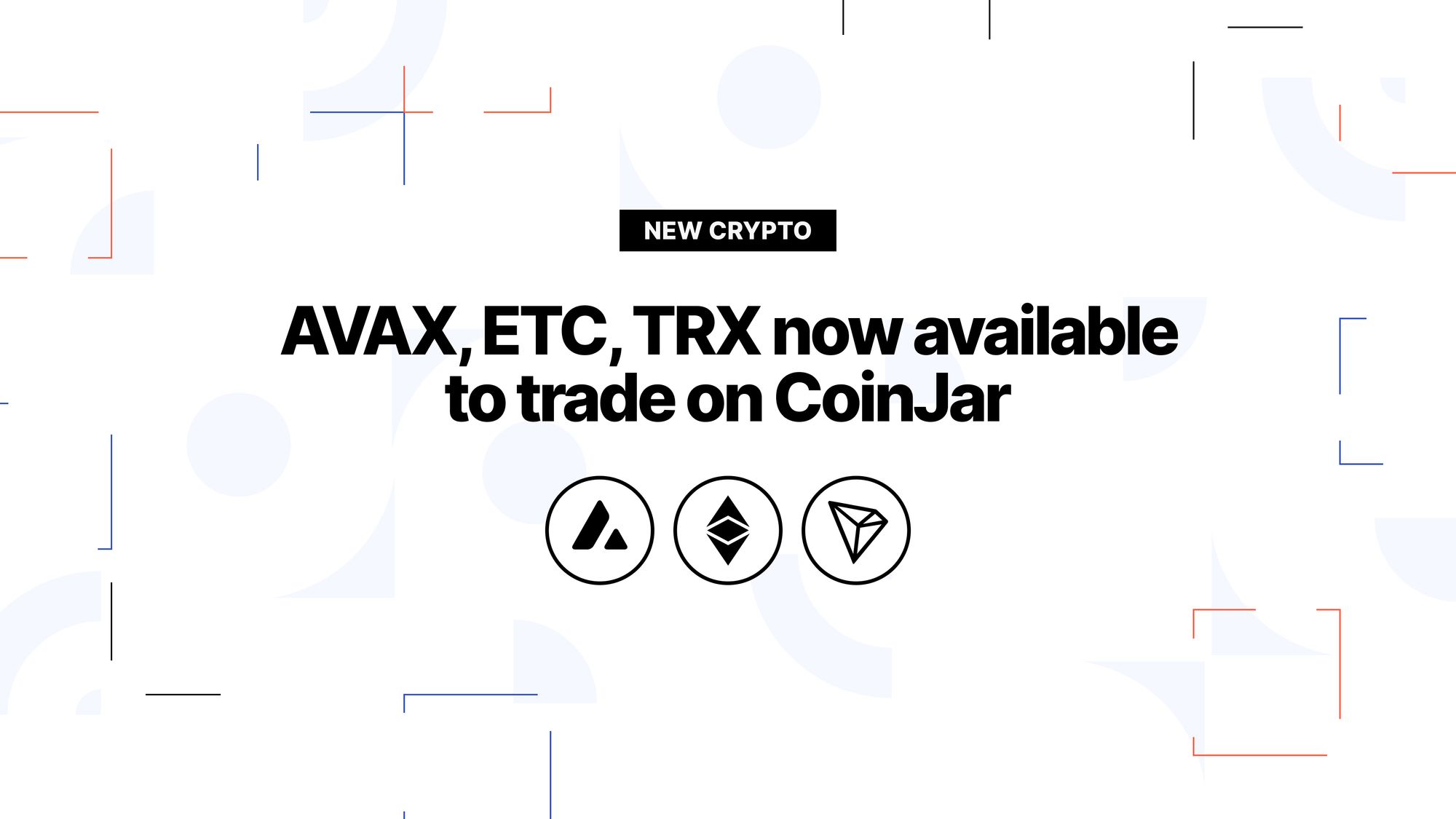 We're thrilled to welcome Avalanche, Tron and Ethereum Classic to the CoinJar lineup.
From today, you'll be able to buy and sell all of these cryptos on CoinJar, joining the more than 50 other cryptocurrencies that our users can already trade, store, send and spend.
Update your app to get access to the full available range of tokens on CoinJar.
These tokens won't initially be available for purchase through CoinJar Bundles or on CoinJar Exchange, but will be added in the near future.
---
Avalanche (AVAX) is a smart contract platform with one of the fastest transactional throughputs of any layer one chain, utilising multiple chains for scalability. In addition, Avalanche is EVM compatible and has Ethereum bridging to build interoperability between chains.
Developed by Ava Labs and launched in 2020, Avalanche aims to provide a scalable and interoperable ecosystem for decentralised applications (dApps), decentralised finance (DeFi), non-fungible tokens (NFTs), and other blockchain-based solutions.
Tron (TRX) was launched in 2017, right in the middle of a crypto bull run, to provide digital content creators with the platform to gain full ownership rights by eliminating the intermediary of media tech giants. It did this by encouraging more rewards to be given to creators by allowing consumers to reward them directly.
Initially launched as an ERC-20 token on the Ethereum blockchain, the TRX token now operates in its native blockchain network. TRX is widely used for payment across the Tron platform, non-fungible tokens (NFTs), and a governance token for voting rights. In addition, TRX token holders can also participate in staking to earn passive income while contributing to the network's security.
Ethereum Classic (ETC) was a copy of Ethereum (ETH) code that originated from a split in the Ethereum network following the infamous DAO hack in July 2016. While most Ethereum communities chose to create a new blockchain (Ethereum, or ETH) to reverse the hack and return the stolen funds, a smaller group decided to continue with the original chain, prioritising the principle of immutability. This unaltered version of Ethereum became Ethereum Classic.
The Ethereum Classic network operates using a Proof-of-Work (PoW) consensus mechanism, similar to its sibling Ethereum (before Ethereum 2.0's shift to Proof-of-Stake). This PoW system allows miners to validate transactions and maintain the network's security. Despite its lower market cap and less active developer community than Ethereum, Ethereum Classic still supports creating and deploying smart contracts and decentralised applications (dApps).
Happy Trading!
CoinJar Team
CoinJar's digital currency exchange services are operated in Australia by CoinJar Australia Pty Ltd ACN 648 570 807, a registered digital currency exchange provider with AUSTRAC; and in the United Kingdom by CoinJar UK Limited (company number 8905988), registered by the Financial Conduct Authority as a Cryptoasset Exchange Provider and Custodian Wallet Provider in the United Kingdom under the Money Laundering, Terrorist Financing and Transfer of Funds (Information on the Payer) Regulations 2017, as amended (Firm Reference No. 928767). Like all investments, cryptoassets carry risk. Due to the potential volatility of the cryptoasset markets, the value of your investments may fall significantly and lead to total loss. Cryptoassets are complex and are unregulated in the UK, and you are unable to access the UK Financial Service Compensation Scheme or the UK Financial Ombudsman Service. We use third party banking, safekeeping and payment providers, and the failure of any of these providers could also lead to a loss of your assets. We recommend you obtain financial advice before making a decision to use your credit card to purchase cryptoassets or to invest in cryptoassets. Capital Gains Tax may be payable on profits.