New crypto regulations in the UK and how will they impact you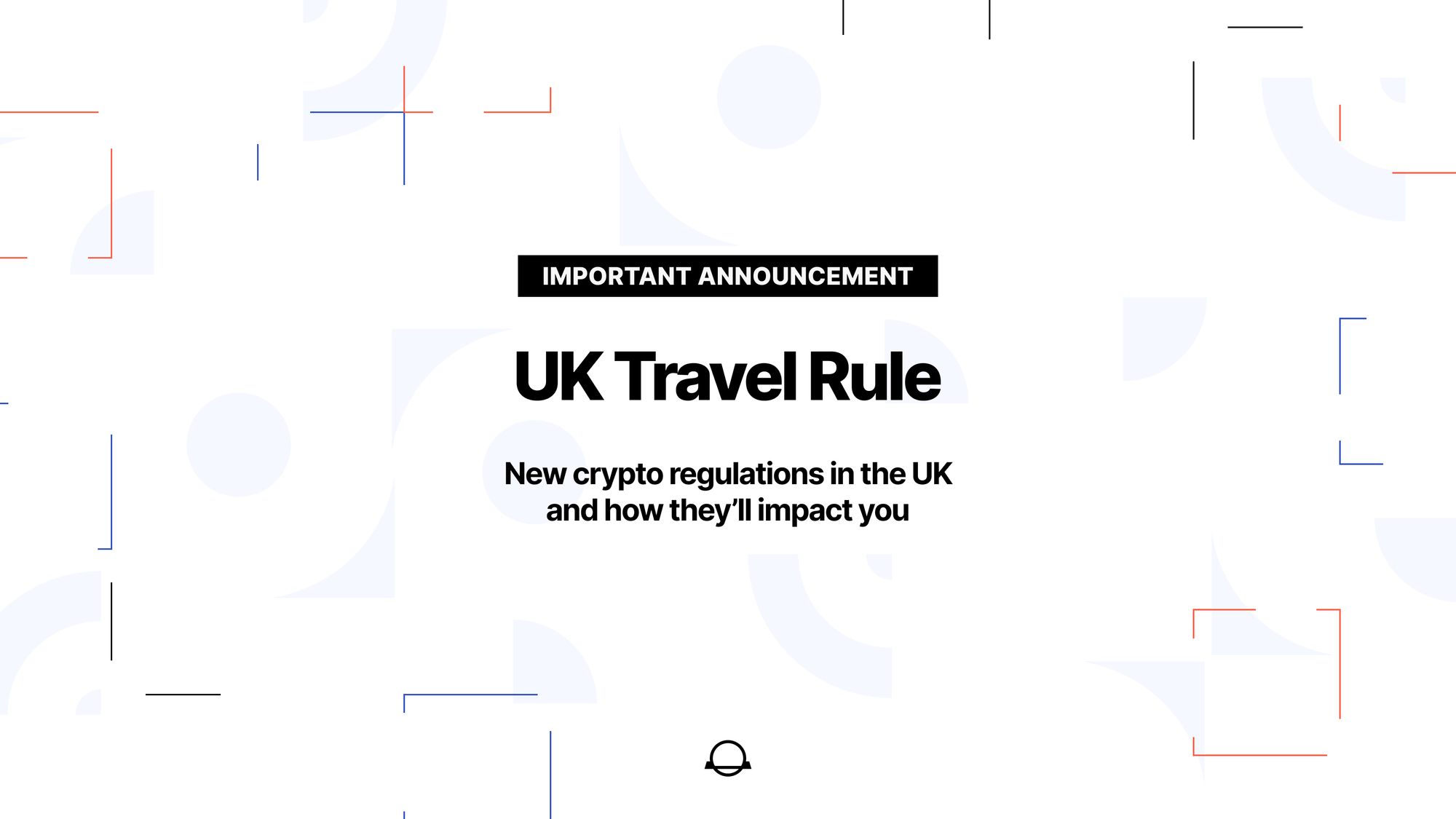 At CoinJar, we must maintain regulatory compliance standards in line with our FCA money laundering registrations and the upcoming FATF & UK Travel Rule for crypto transfers.
As of September 1, 2023, the UK government-mandated new crypto regulations, often called the "Travel Rule," are taking effect. They have been designed to strengthen the security and integrity of cryptocurrency transactions while combating money laundering and terrorism financing.
What is the Travel Rule?
The Travel Rule is a recommendation from the FATF to increase transparency and accountability within the crypto industry. The implementation of the Travel Rule in the UK requires all cryptocurrency transfers in the UK to be accompanied by information about the sender and the recipient. All intermediaries involved in processing the transaction must be equipped to share and receive this information.
What Information Will You Need to Provide?
As a cryptocurrency investor, when you initiate crypto transactions or receive crypto deposits, you will now be asked to provide the following details:
Whether the transfer is to yourself or someone else.
Information about the recipient or sender, including their name, and in some cases, their address.
Details about the recipient's or sender's wallet provider (for example, whether the wallet is provided by a cryptocurrency exchange or not).

How might this affect your transactions?
For most transactions between external wallets, you can expect a verification process lasting at most 5 minutes, with approximately 98% of transactions being completed within this timeframe. In some cases, you may be asked to provide us with more information where we receive an incoming crypto deposit without associated Travel Rule information.
We may be unable to support certain incoming transfers from cryptocurrency exchanges when Travel Rule information has not been shared with us or when incoming transfers are from exchanges located in high-risk jurisdictions, as determined by our internal policies. Such transactions will be held until the third-party exchange complies with the Travel Rule requirements or we are able to return the funds to the exchange.
We will support the majority of transfers between CoinJar and self-hosted wallets. You can learn more about various types of self-hosted wallets on CoinJar Learn.
You can view and action any pending crypto deposits and withdrawals via the Pending Payments screen accessible from the CoinJar home screen in the web browser under the "Action Required" section or through the "Review your pending payment" banner in the mobile app only visible when there is a pending payment.
Data Protection and Security
To ensure compliance with the Travel Rule, CoinJar has partnered with Notabene, a reputable firm specializing in this area. Notabene adheres to the highest security standards, including SOC2 Type II certification.
We understand that these changes might raise questions, and we're here to help. If you have any concerns or require further clarification, please don't hesitate to reach out to our support team.
CoinJar Team
---
Don't invest unless you're prepared to lose all the money you invest. This is a high‑risk investment and you should not expect to be protected if something goes wrong. Take 2 minutes to learn more: www.coinjar.com/uk/risk-summary.
Cryptoassets traded on CoinJar UK Limited are largely unregulated in the UK, and you are unable to access the Financial Service Compensation Scheme or the Financial Ombudsman Service. We use third party banking, safekeeping and payment providers, and the failure of any of these providers could also lead to a loss of your assets. We recommend you obtain financial advice before making a decision to use your credit card to purchase cryptoassets or to invest in cryptoassets. Capital Gains Tax may be payable on profits.​​
CoinJar's digital currency exchange services are operated in Australia by CoinJar Australia Pty Ltd ACN 648 570 807, a registered digital currency exchange provider with AUSTRAC; and in the United Kingdom by CoinJar UK Limited (company number 8905988), registered by the Financial Conduct Authority as a Cryptoasset Exchange Provider and Custodian Wallet Provider in the United Kingdom under the Money Laundering, Terrorist Financing and Transfer of Funds (Information on the Payer) Regulations 2017, as amended (Firm Reference No. 928767).