Melbourne Bitcoin Meetup - new exchanges, a point-of-sale and pizzas.
So we had another Bitcoin Meetup in Melbourne. They're always fun, but now they're getting huge, to the point where we may have to fly the nest of York Butter Factory to be able to fit all our fledgling crypto-kings. The hot topic was launches, with a new exchange and a new point of sale provider making waves in Melbourne City.

Even as we were getting set up people were wandering in, peering about and chatting trades, crypto and the heat wave. Despite the fact that it was 40+ degrees we had 125 confirmed attendees. After our last 100+ attendance we knew we were in for a crowd, but we were thinking the heat would possibly dampen the enthusiasm.

Now despite the fact that CoinJar is very actively involved in the meetup, the group is a non commercial collective and it was very exciting to facilitate the launch of a new crypto exchange. Asher (our CEO) commenced with a glowing recommendation of Surya, the founder of the new exchange, who we have all had the pleasure of working with in one form or another. He then passed the mike and gave Surya the floor.
Brighton Peaks – a new Australian exchange
Brighton Peaks is something new for Australian exchanges. While CoinJar is a well respected platform to buy, sell and accept bitcoin, we don't run an order book, we are a market maker.
Brighton Peaks on the other hand is targeted at traders. It offers numerous functions, such as automated trading, tiered fees based on trade volume, and a host of other features that will make day traders and stockbrokers crow with joy.
Beyond that they are backed by an international group, who provide global liquidity to the platform. In the question-and-answer session Surya handled technical and economical questions with the confidence of someone who knows his product, and built it to solve the very problems the crowds were raising.

While it's not live yet, we're proud to see such a well developed platform emerge in Australia and we can't wait to see what comes next for Brighton Peaks once they are open for business.
DCPOS – take BTC in your store today, get AUD tomorrow
This project is one that CoinJar has been involved with from inception, and we've all been extremely excited for its release. It's a web based point of sale that integrates with the CoinJar backend seamlessly.
DCPOS allows merchants to plug in a price, get a QR code, receive BTC and have it paid out into their bank account as the AUD price the next morning. In effect DCPOS provide the interface and we provide the hedge and exchange functionality. It is also wallet and exchange agnostic so can integrate with other exchanges. Viva la free market!
Mike, the founder, and head of the Melbourne Reddit meetup, did a live example in front of the audience. Now this thing has been bug tested to the point when it could be used for a mortein commercial (I'll admit that joke is a stretch), but I still had my heart in my mouth as I watched the transaction go through live on the big screen. Mike and Ian did a little sketch where he bought water, punched in $1.99, scanned the QR code and fired the 1.99 mBTC into space.
Before Mike even had a chance turn around and explain that some wallets may cause a few seconds hang, the green tick hit the screen, and the whole community burst into applause.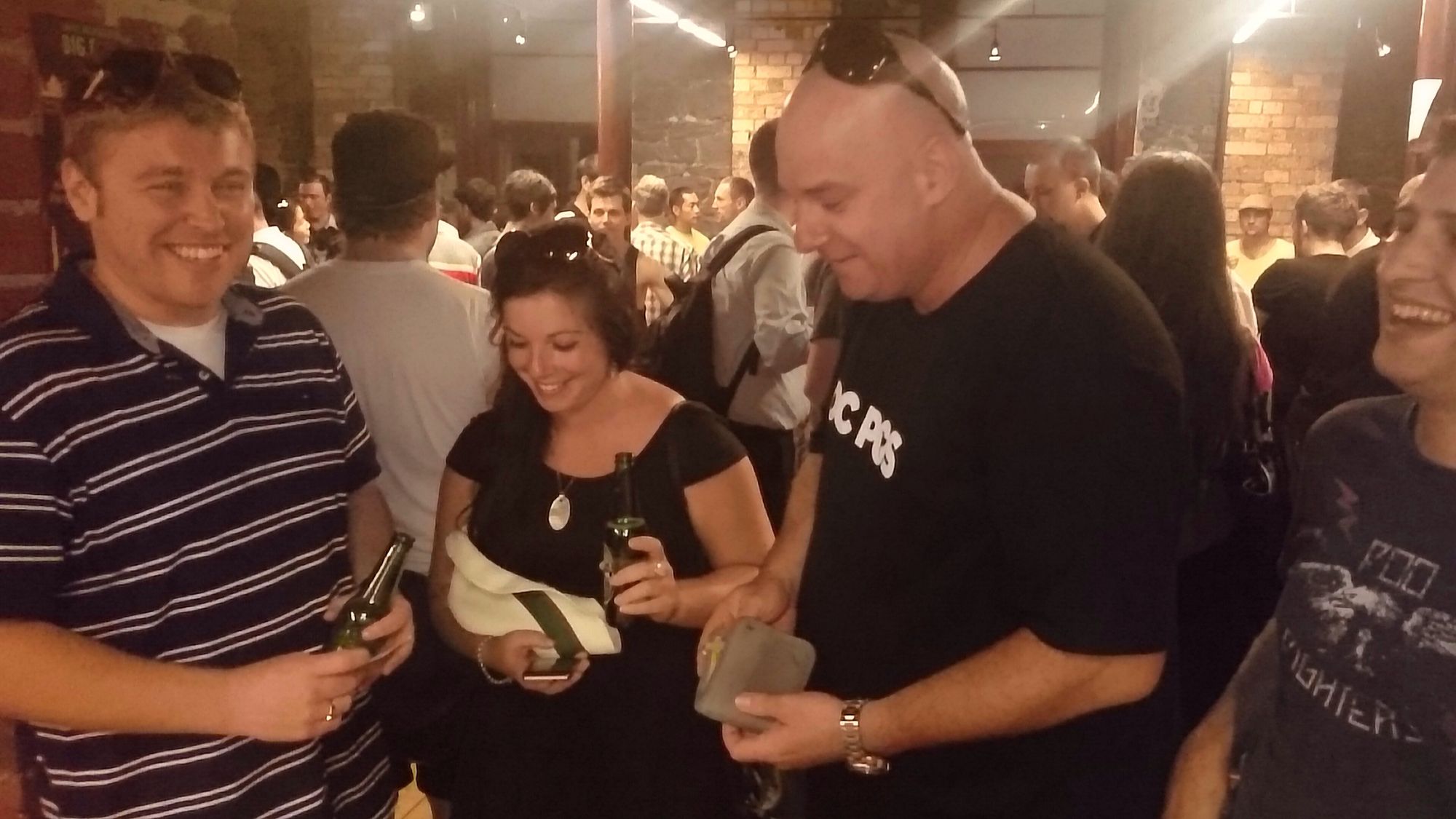 It wasn't Shakespeare but it was the best entertainment I've had in a while. I don't think anyone clapped for an EFTPOS transaction, I'll tell you that much.
DCPOS has rolled out 10 units to their first ten merchants, but anyone with a device and some fingers can get signed up. Say hello to DCPOS and find some places to spend BTC here.
Our little shop
A big win was the fact we got to use the DCPOS to sell the Bitcoin Magazines. We have them shipped from America and they're usually a month old. Everyone in the community has read every piece of news thirty times, but they are still hot property.

This time, instead of a QR code stuck to the table, I had a non-technical person manning the station and handling transactions using DCPOS (running on my iPad). It was seamless and matched consumer expectations for a transaction. We had jaded cynics and wide eyed newbies come up to buy a mag and give it a go. Let me tell you, everyone's eyes lit up when they saw that beautiful little tick.
We were also lucky enough to have one of the bitcoin ATMs supplied by Dale, a local bitcoin advocate and upskiller. There was some issues with the blockchain.info API to begin with, but once it was up and running again we had the whole consumer pipeline on our table. Hashtag no bank required. You can book Dale to bring the ATM to a function or present on anything BTC related here.
We ended up selling $250 worth of mags, of which $185 was in BTC. The $65 left over was then traded to a traveler that needed some AUD. I'll never turn down some BTC so I made the executive decision to trade our float for it. It meant he could get breakfast, and I wouldn't have to carry a bunch of stinky plastic rectangles around.
Final thoughts
I love BTC, but until recently I loved it in the privacy of my own home, at four in the morning, lurking at the bottom of r/bitcoin/new whilst watching EMA's cross out of the corner of my eye.
But now I'm actually outside, and meeting people! Being able to be a part of this amazing community, with traders, baby boomers, hipsters and developers alike is a privilege I'll never take for granted. Seeing all these exciting new products, and being a part of a community where competitors work together to facilitate adoption, is something unique and is part of what makes the protocol so strong.
I think the biggest home run that night was just watching the old and the new see the actual transactional power of bitcoin, and remember or learn the very reason it is worth so much to our economy and the free market.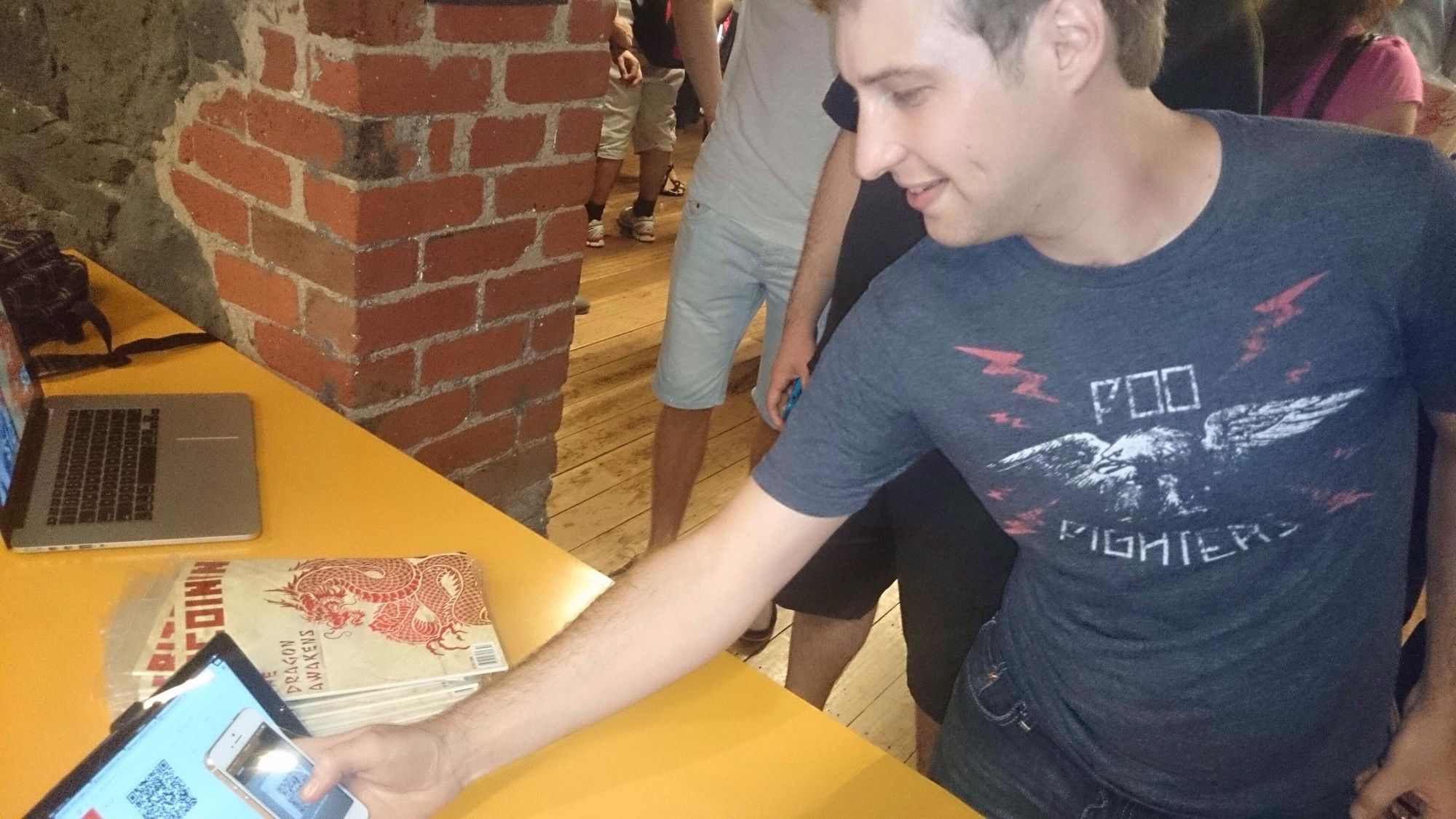 Subscribe to the next meetup here.
Tell me your secrets @samueltates.
X
---
Don't invest unless you're prepared to lose all the money you invest. This is a high‑risk investment and you should not expect to be protected if something goes wrong. Take 2 minutes to learn more: www.coinjar.com/uk/risk-summary.
Cryptoassets traded on CoinJar UK Limited are largely unregulated in the UK, and you are unable to access the Financial Service Compensation Scheme or the Financial Ombudsman Service. We use third party banking, safekeeping and payment providers, and the failure of any of these providers could also lead to a loss of your assets. We recommend you obtain financial advice before making a decision to use your credit card to purchase cryptoassets or to invest in cryptoassets. Capital Gains Tax may be payable on profits.​​
CoinJar's digital currency exchange services are operated in Australia by CoinJar Australia Pty Ltd ACN 648 570 807, a registered digital currency exchange provider with AUSTRAC; and in the United Kingdom by CoinJar UK Limited (company number 8905988), registered by the Financial Conduct Authority as a Cryptoasset Exchange Provider and Custodian Wallet Provider in the United Kingdom under the Money Laundering, Terrorist Financing and Transfer of Funds (Information on the Payer) Regulations 2017, as amended (Firm Reference No. 928767).