USDT, MATIC, ENJ + more added to CoinJar Exchange and Bundles.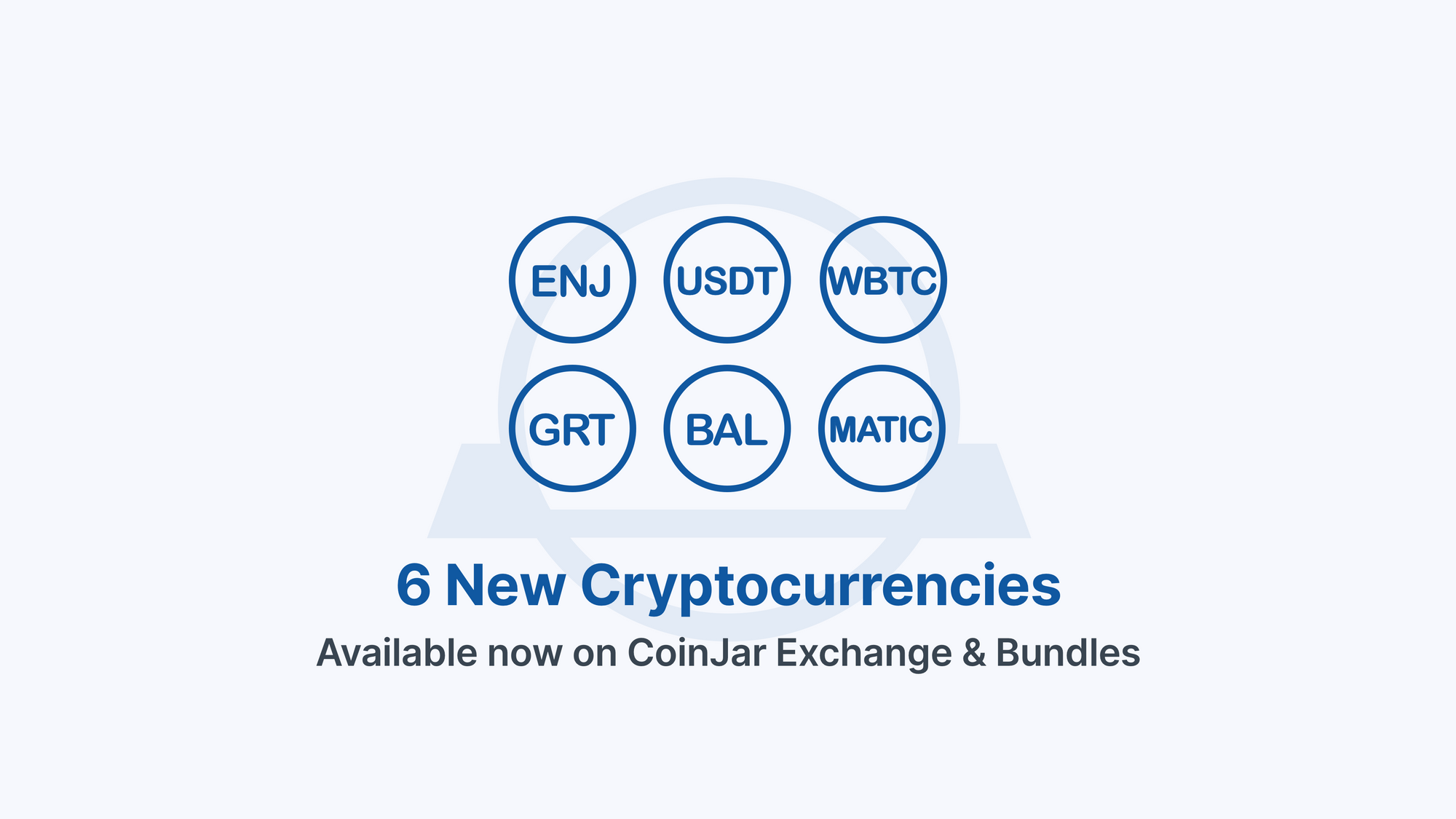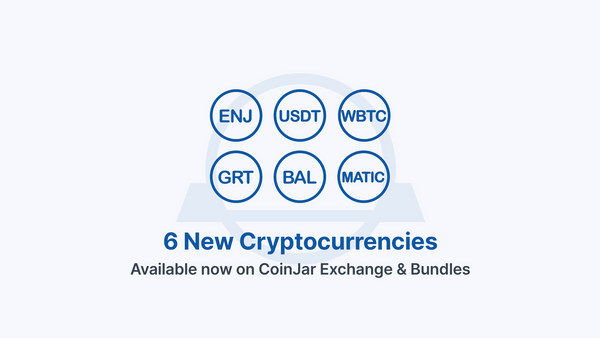 USDT, MATIC, ENJ, WBTC, BAL and GRT have been added to CoinJar Exchange and CoinJar Bundles.
We're excited to announce that our six newest tokens – Tether, Polygon/Matic, Enjin, Wrapped BTC, Balancer and The Graph – can now also be bought, sold and traded on CoinJar Exchange and as part of CoinJar Bundles.
Trade 125 different pairs with 0% taker fees
We've added 31 new USDT, MATIC, ENJ, WBTC, BAL and GRT trading pairs to CoinJar Exchange. Here's the full list:
BTC/USDT, ETH/USDT, XRP/USDT, LTC/USDT, EOS/USDT, LINK/USDT, UNI/USDT
USDT/AUD, USDT/GBP, USDT/USDC
MATIC/AUD, MATIC/GBP, MATIC/BTC, MATIC/USDC, MATIC/USDT
ENJ/AUD, ENJ/GBP, ENJ/BTC, ENJ/USDC
GRT/AUD, GRT/GBP, GRT/BTC, GRT/USDC
BAL/AUD, BAL/GBP, BAL/BTC, BAL/USDC
WBTC/AUD, WBTC/GBP, WBTC/BTC, WBTC/USDC
You can now trade 125 pairs on CoinJar Exchange with 0% taker fees, all with deep liquidity and razor thin spreads provided by CoinJar's proprietary implied matching system.
Bundles get bigger
We've also added the tokens to our ever-growing Bundles ecosystem.
MATIC, ENJ, BAL and GRT have been added to the CoinJar Universe Bundle and the ERC-20 Bundle
BAL and GRT have been added to our DeFi Bundle
USDT has been added to our Stable Bundle.
And keep your eyes peeled for our new DEX and Scalability Bundles, being launched soon.
Note that we've also removed our four listed stablecoins – USDT,  USDC, PAX and DAI – from all bundles except for the Stable Bundle.
Will these changes affect my existing Bundles?
No. Existing Bundles and Recurring Buys will keep the same asset allocations as before. To include the new tokens (or to remove stablecoins), you'll have to unbundle and re-bundle as outlined in this Knowledge Base article.
Any questions?
Read about the difference between CoinJar and CoinJar Exchange here. Read more about CoinJar Bundles here. If you have any other questions or concerns, Support is here to help.
Like all investments, cryptoassets carry risk. Due to the potential volatility of the cryptoasset markets, the value of your investments may fall significantly and lead to total loss. Cryptoassets are currently not financial products regulated by the FCA, so you are unable to access the Financial Service Compensation Scheme or the Financial Ombudsman Service. We use third party banking, safekeeping and payment providers, and the failure of any of these providers could also lead to a loss of your assets. We recommend you obtain financial advice before making a decision to use your credit card to purchase cryptoassets or to invest in cryptoassets.