How Melbourne meme artist Lushsux made half-a-million bucks from NFTs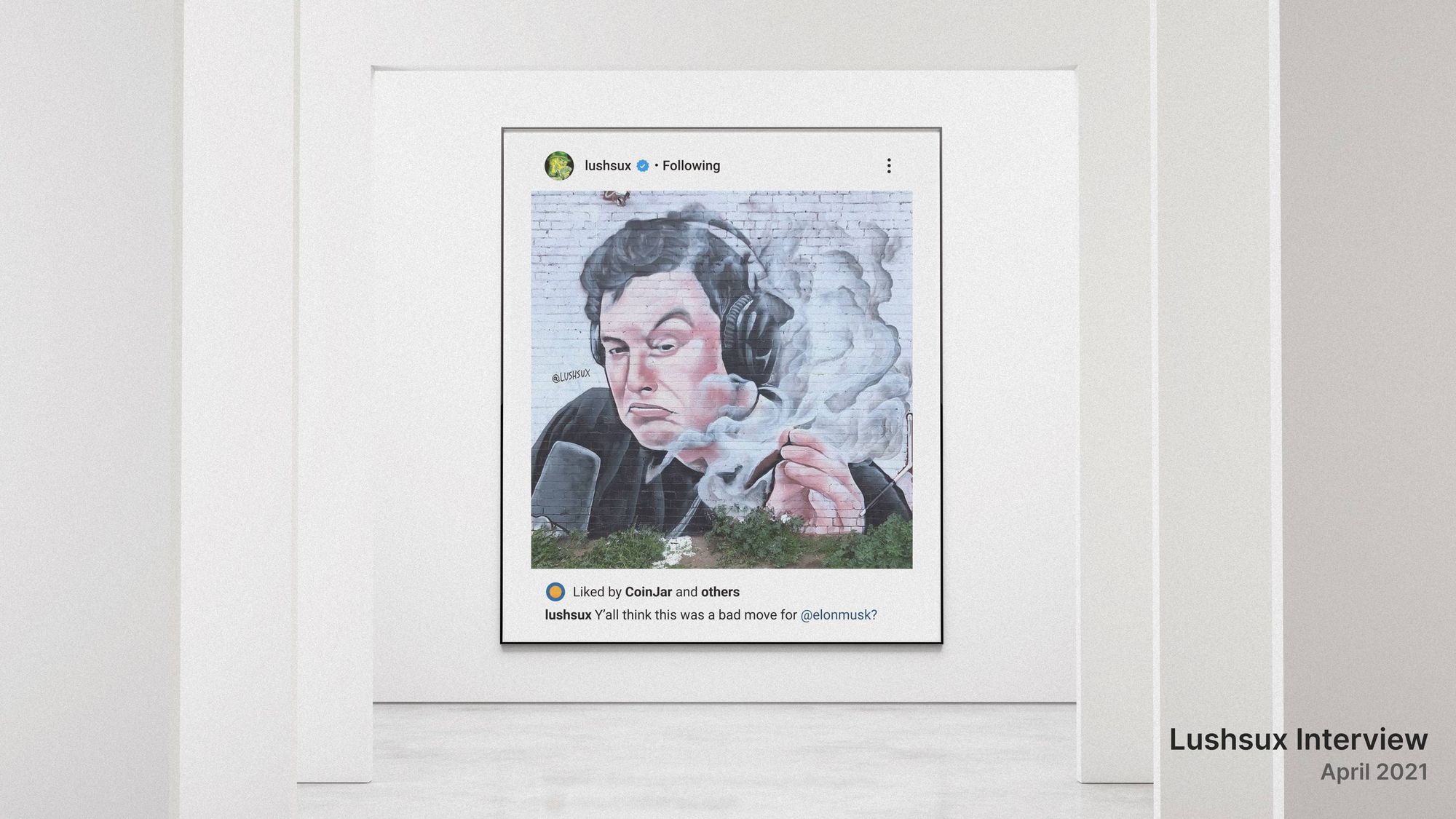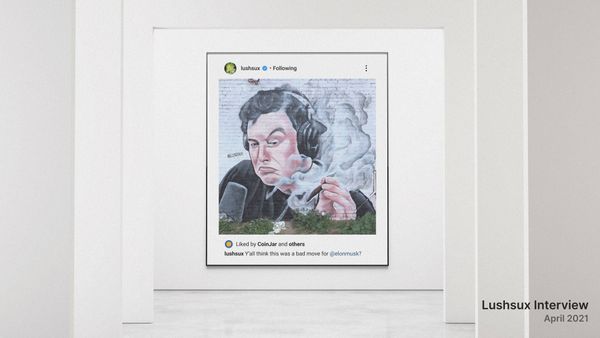 Lushsux is Australian street art royalty. One of the country's most prolific street artists and founder of the meme art movement, his work is both instantly recognisable and bitingly funny, taking the most familiar parts of internet culture, giving them an otherworldly gloss and pasting them all over Melbourne's walls.

Being one with the internet hive mind, it perhaps isn't surprising that Lushsux's latest pivot has been toward the NFT (non-fungible token) craze. He talks to CoinJar about his own crypto journey, what NFTs mean for the art world and, well, the half-a-million dollars he's already made.
CJ: So, could you tell us how you got started making NFTs?
LS: I've always been interested in the crypto scene, but more from a safe distance. I'd take payment in crypto if people offered it to me, but I wasn't in deep. Fortunately I had a mate, GT Sewell, who's been a big crypto evangelist for years now and he sat me down one day last July and talked me through the whole NFT concept in detail. And it blew my mind. Like I could barely sleep for the next two weeks. Although the thoughts keeping me up were mostly like, "So, I might be able to sell some JPEGs for a couple thousand bucks? Cool."
CJ: That may have been underselling yourself.
LS: But it was still the crypto bear market! Getting people to pay real money for digital art seemed insane. Even being that early I was really lucky to get in when and how I did.
CJ: What do you mean by lucky?
LS: I realised that if I was going to make this work I needed to get on one of the major sites like Nifty Gateway or Rarible. But even back then it was becoming hard to get a drop happening with those guys. I knew I had to find some way of getting to the front of the queue, so I started doing paintings of crypto figures like the Winklevoss twins, Satoshi, Elon and a Shiba Inu. I did a painting of Beeple and someone shared it with him and when he posted it someone from Nifty Gateway saw it and that was basically my in.
CJ: Part of your deal as a street artist is anonymity. Did you feel like you saw a crossover there with the anonymous elements of the crypto world?
LS: For sure. There's people making ludicrous amounts of money in crypto, but pretty much everyone is known by some anonymous Twitter handle. No one wants to get robbed and obviously there's the tax component too. It's also that weird thing where the blockchain makes it totally transparent how much money you're making, yet you're still this invisible figure.
CJ: Which, in your case, is around half-a-million bucks. Does it weird you out that people can see exactly how much your art is selling for?
LS: Nah, I reckon it's great. I mean, not ATO-wise, obviously. But you'd never get that sort of transparency in the art world and that's why the market's so fucked. With NFTs you know how much the work's been worth every time it's been bought and sold. It makes it possible for investors to do their due diligence and make well informed decisions. It's why I'm not worried about counterfeiters or people trying to sell my work themselves. You can literally just follow the money.
CJ: And you get a cut every time one of your pieces is sold on, right?
LS: That's one of the best things about NFTs for content creators (and especially musicians). Rights are one of the shittiest parts of being an artist. Every state in Australia is entirely different and you need a lawyer and all these resources to make sure you're being properly paid for your work. NFTs mean that part of the process is locked and automatic, no matter where your work goes in the world.
CJ: The NFT market feels pretty frothy right now. Is it sustainable?
I sold a piece called 'The 8' for 88.8 ETH, or like $250,000. I'm literally one of Australia's highest paid living artists. Top 20 at least. And some guy is trying to sell one of my Elon Musk portraits for $1.4 million. You could buy a Whiteley for that price. Or, like, a 2-bedroom house in Melbourne.
So, yeah, bubble's gonna burst and most of these things are going to be absolutely worthless. 95% of the stuff being produced right now is trash - and that includes me. Is a picture of some shitty crypto meme worth hundreds of thousands of dollars? According to the market, yes, but give it a few months and we'll see where we're at.
But even when it does pop the technology and the whole idea of it will grow in other ways. It still feels gimmicky now, but soon every industry is going to have that moment where they start to use it to their advantage. Music, film, TV, writing - they're all working on it. I saw the other day that people are even starting to tokenize their houses. That's wild.
CJ: So, what's coming up for you in the NFT space?
I've got another drop coming up with Nifty Gateway on April 24th and I'm doing a project with Chainlink that's gonna be pretty cool. We're working on a new NFT mechanic that no-one's done yet.
More than anything, NFTs are an excuse to spend more time building things in the digital world - VR, AR, etc. It's always been part of what I do, but now I can actually justify playing around with it all.

---
Don't invest unless you're prepared to lose all the money you invest. This is a high‑risk investment and you should not expect to be protected if something goes wrong. Take 2 minutes to learn more: www.coinjar.com/uk/risk-summary.
Cryptoassets traded on CoinJar UK Limited are largely unregulated in the UK, and you are unable to access the Financial Service Compensation Scheme or the Financial Ombudsman Service. We use third party banking, safekeeping and payment providers, and the failure of any of these providers could also lead to a loss of your assets. We recommend you obtain financial advice before making a decision to use your credit card to purchase cryptoassets or to invest in cryptoassets. Capital Gains Tax may be payable on profits.​​
CoinJar's digital currency exchange services are operated in Australia by CoinJar Australia Pty Ltd ACN 648 570 807, a registered digital currency exchange provider with AUSTRAC; and in the United Kingdom by CoinJar UK Limited (company number 8905988), registered by the Financial Conduct Authority as a Cryptoasset Exchange Provider and Custodian Wallet Provider in the United Kingdom under the Money Laundering, Terrorist Financing and Transfer of Funds (Information on the Payer) Regulations 2017, as amended (Firm Reference No. 928767).