Island of Stability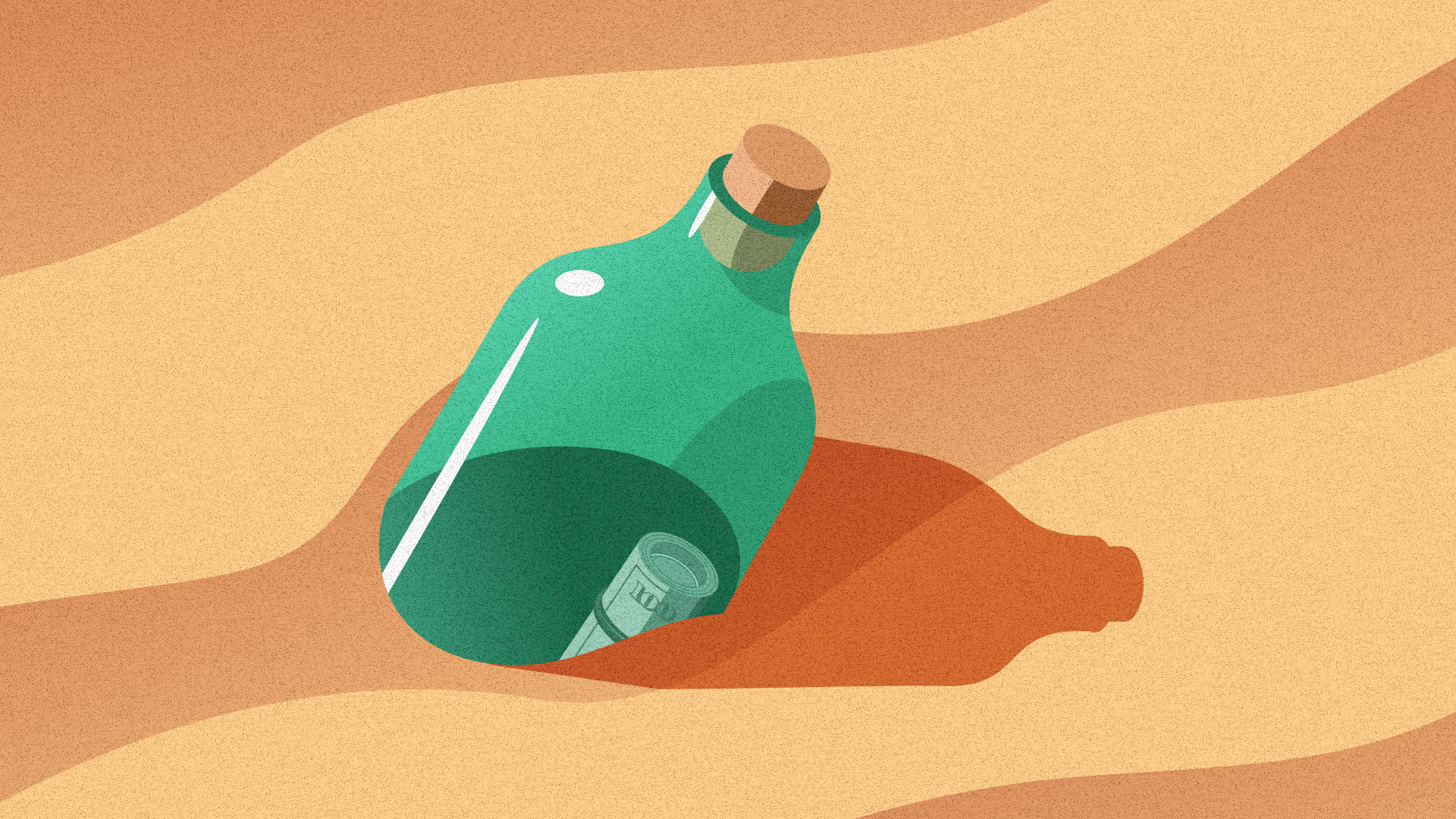 They won't make you rich, but stablecoins are crypto's hottest property. Here's why they matter.
On November 1, CoinJar added trading support for USD Coin (USDC), a US-dollar pegged stablecoin backed by crypto-pioneers Circle and Coinbase. The idea behind the coin is simple: 1 USDC = 1 US dollar. No matter what else might be happening in the crypto markets you can rely on your USDC to keep on buying exactly the same amount of US currency.
The way USDC achieves this is by holding a transparent and continuously audited pool of US dollars that exactly matches the number of USDC in circulation. Here is an artist's impression:
Stablecoins rising
USDC is just one of the many stablecoins to emerge in the wake of the 2017 crypto bubble. Most work on the same principle as USDC; that is, they hold fiat equivalents for all their coins in a bank account. Others, like Maker's DAI, keep things decentralised by using Ethereum smart contracts to continuously rebalance a basket of cryptocurrencies whose value is pegged to the US dollar. (Yes, this is as complex as it sounds.)
Stablecoins fulfill a number of purposes: they offer a safe haven in times of crypto volatility; they lower barriers to transnational currency transfers; they can be used for loans and borrowing; and, most importantly, they provide trading liquidity to exchanges that, because of the historic wariness around cryptocurrency, don't have access to the traditional banking system. It's this last one that has made stablecoins so central to modern crypto. $12.5 billion of stablecoin was traded in 2017, $82 billion in 2018 and this year? Well…
The Tether in the room
These days the most traded cryptocurrency isn't bitcoin, it's Tether (USDT). Every day more than $20 billion USDT is traded on cryptocurrency exchanges, accounting for 94% of the stablecoin market.
So why haven't we added support for Tether? Well, Tether has, shall we say, a complicated history. (Tl;dr: it's never submitted to a proper audit; its business is located in the tax haven British Virgin Islands; it may or may not be a subsidiary of the exchange Bitfinex; and it's currently being investigated for an alleged $850m fraud by the New York Attorney-General.) Fears about its imminent collapse – "Tether FUD" – are almost as commonplace as claims that "bitcoin is going to zero". As a result, 1 USDT has at times been worth both US$1.08 and US0.85c. How's that for stability?
The new guard
This is not to discount how important Tether has been to crypto. At a time when cryptocurrency was still "that stuff you use to buy drugs online," Tether allowed digital currencies to be bought and sold like the serious assets they're now deemed to be. Without Tether, it's almost unthinkable that the crypto markets would be where they are today.
Yet as crypto edges closer to mainstream acceptance – *cough* China *cough* – we think it's important to focus on assets that are well-regulated, well-understood and, well, stable. And until the Fed comes to the table with their own digital dollar, we reckon USDC is as good as it gets.
Ask CoinJar
What does it mean when they say 95% of crypto trading volume is fake? How is that even possible?
When you're trading on an exchange, you're basically assuming that the person on the other side of the trade is just that – a person, with a desire to buy or sell the cryptocurrency they own. However, many exchanges engage in a practice known as wash trading, where artificial entities basically buy and sell their own stock at the same price. This is illegal on traditional stock exchanges, but in crypto's Wild West there's plenty of bad actors using wash trading to try and make their exchange or coin look more important than it is – much like buying followers on Instagram.
Good exchanges (hello!) don't let it happen and sites like Coinmarketcap are putting more effort into detecting fake volume before it interferes with their rankings. But it's a reminder not to take too seriously those claims that X coin has done Y volume so you have to BUY BUY BUY.
(If you want more info, we recently did a blog post on the topic.)
Like what you see? Subscribe here and never miss out!
We are not affiliated, associated, endorsed by, or in any way officially connected with any business or person mentioned in articles published by CoinJar. All writers' opinions are their own and do not constitute financial or legal advice in any way whatsoever. Nothing published by CoinJar constitutes an investment or legal recommendation, nor should any data or content published by CoinJar be relied upon for any investment activities. CoinJar strongly recommends that you perform your own independent research and/or seek professional advice before making any financial decisions.
---
Don't invest unless you're prepared to lose all the money you invest. This is a high‑risk investment and you should not expect to be protected if something goes wrong. Take 2 minutes to learn more: www.coinjar.com/uk/risk-summary.
Cryptoassets traded on CoinJar UK Limited are largely unregulated in the UK, and you are unable to access the Financial Service Compensation Scheme or the Financial Ombudsman Service. We use third party banking, safekeeping and payment providers, and the failure of any of these providers could also lead to a loss of your assets. We recommend you obtain financial advice before making a decision to use your credit card to purchase cryptoassets or to invest in cryptoassets. Capital Gains Tax may be payable on profits.​​
CoinJar's digital currency exchange services are operated in Australia by CoinJar Australia Pty Ltd ACN 648 570 807, a registered digital currency exchange provider with AUSTRAC; and in the United Kingdom by CoinJar UK Limited (company number 8905988), registered by the Financial Conduct Authority as a Cryptoasset Exchange Provider and Custodian Wallet Provider in the United Kingdom under the Money Laundering, Terrorist Financing and Transfer of Funds (Information on the Payer) Regulations 2017, as amended (Firm Reference No. 928767).