Introducing coinjar.eth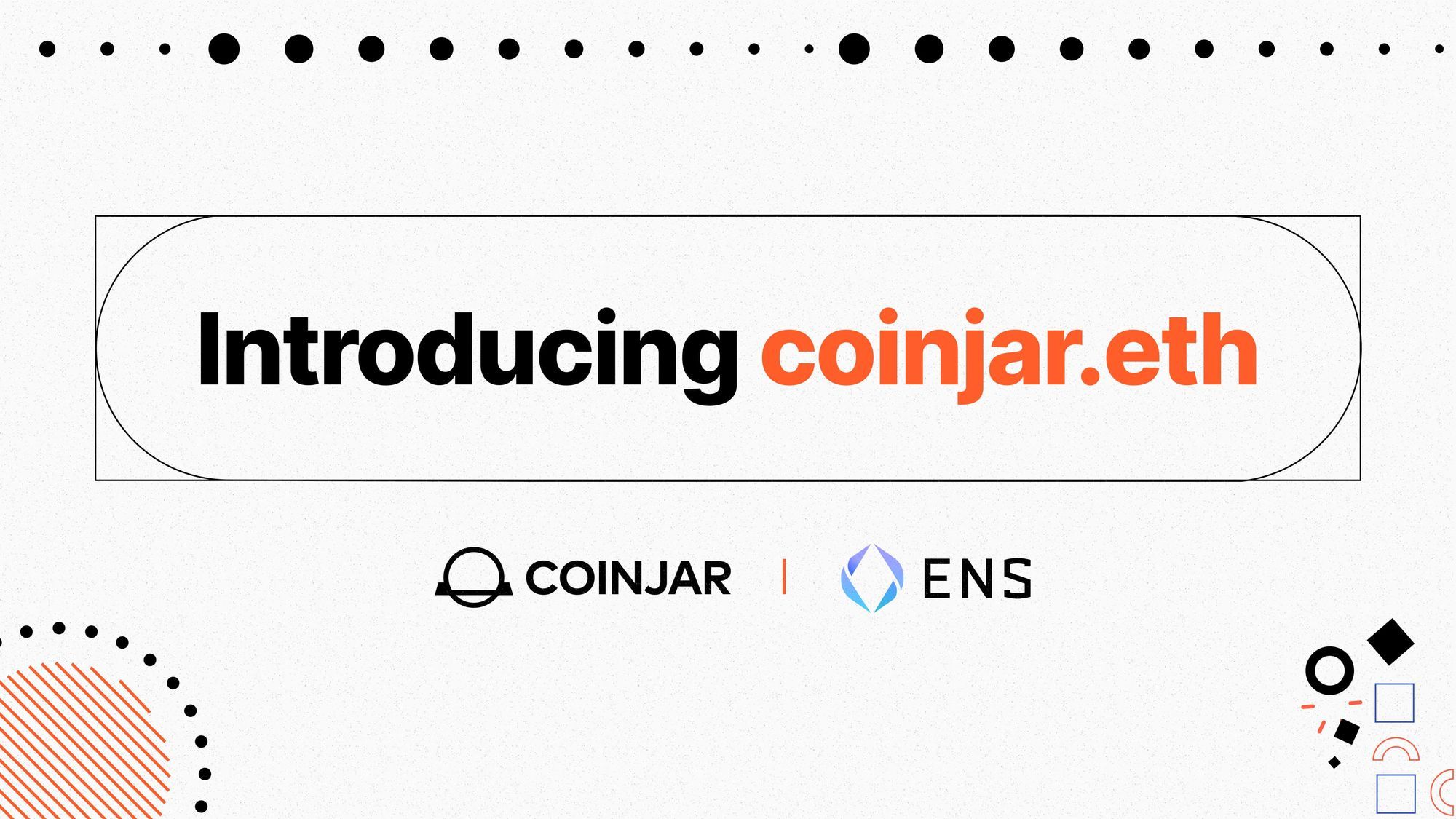 We just bought our piece of the Ethereum blockchain and it's opening up some big possibilities.
Last week we spent 5.9 ETH to secure coinjar.eth, our very own slice of the Ethereum network. Depending on your perspective, spending the better part of $25,000 on a bunch of internet letters might be the definition of insanity.
But we're hugely excited about what coinjar.eth means for our customers and what we'll soon be able to offer them thanks to the Ethereum Name Service (ENS). So we thought we'd take a couple of minutes to explain.
A brief primer on URLs
CoinJar lives at the web address coinjar.com. The .com address is the most common top-level domain (TLD) in the world, but it exists alongside other familiar names like .net, .gov and .org, as well as newer entrants like .xyz or .io. (Country-specific domains such as .com.au and .cn are also included in the list).
All of these TLDs are essentially signposts for the internet's Domain Name System, which connects the URL (https://www.coinjar.com) with the IP address where an individual website is hosted.
The assignment of TLDs is managed by ICANN (Internet Corporation for Assigned Names and Numbers), an international, not-for-profit organisation tasked with keeping TLDs in good order. However, individual TLD registries are often managed by private companies. For instance, the .com TLD is managed by a multi-billion dollar private US company named Verisign (who also control .gov and .edu).
The upshot: any .com address is only ever owned at the forbearance of Verisign, a company with a long history of data breaches, domain cancellations and US government seizures.
Enter the Ethereum Name Service
The Ethereum Name Service was, as the name suggests, designed to be a DNS equivalent for the decentralised web, using the TLD .eth. ENS is the system that connects Ethereum wallet addresses (i.e. 0xc0fefe254729296a45a3885639AC7E10F9d54979) with a URL such as coinjar.eth.
Rather than organisations such as ICAAN and Verisign, the ENS is managed by a smart contract, with any required changes decided upon by an associated DAO (decentralised autonomous organisation).
All .eth addresses are registered as NFTs (non-fungible tokens), which means that once you own it, you own it. (It also means that if you own it, you can sell it to the highest bidder).
But wait, there's more
However, Ethereum wallet addresses are a lot more interactive than your average IP address. They allow you to port into and take part in all the various aspects of the Ethereum economy, from ICOs to DeFi to NFTs to DAOs to whatever else gets created in the coming years.
The ENS system also means that you can create personalised sub-domains i.e. elonmusk.coinjar.eth. These sub-domains will eventually allow our users to interact with NFT marketplaces and DeFi protocols through their CoinJar wallet. People will even be able to send ERC-20 tokens and NFTs directly to your .coinjar.eth account!
Wen CoinJar web3 wallet?
To be sure, it's all still a work in progress. But the long-term story of crypto – and CoinJar – has been one of making the impossibly complex simple enough for people to use everyday. We're hoping that bringing the world of web3 directly to our users will be the next big step in that process.
And while you wait, we'll be listing the ENS token on CoinJar in the coming weeks so keep your eyes peeled.
CoinJar Team

---
Don't invest unless you're prepared to lose all the money you invest. This is a high‑risk investment and you should not expect to be protected if something goes wrong. Take 2 minutes to learn more: www.coinjar.com/uk/risk-summary.
Cryptoassets traded on CoinJar UK Limited are largely unregulated in the UK, and you are unable to access the Financial Service Compensation Scheme or the Financial Ombudsman Service. We use third party banking, safekeeping and payment providers, and the failure of any of these providers could also lead to a loss of your assets. We recommend you obtain financial advice before making a decision to use your credit card to purchase cryptoassets or to invest in cryptoassets. Capital Gains Tax may be payable on profits.​​
CoinJar's digital currency exchange services are operated in Australia by CoinJar Australia Pty Ltd ACN 648 570 807, a registered digital currency exchange provider with AUSTRAC; and in the United Kingdom by CoinJar UK Limited (company number 8905988), registered by the Financial Conduct Authority as a Cryptoasset Exchange Provider and Custodian Wallet Provider in the United Kingdom under the Money Laundering, Terrorist Financing and Transfer of Funds (Information on the Payer) Regulations 2017, as amended (Firm Reference No. 928767).