CoinJar Is Integrating Chainlink Price Feeds to Enhance User Experience on Its Digital Assets Platform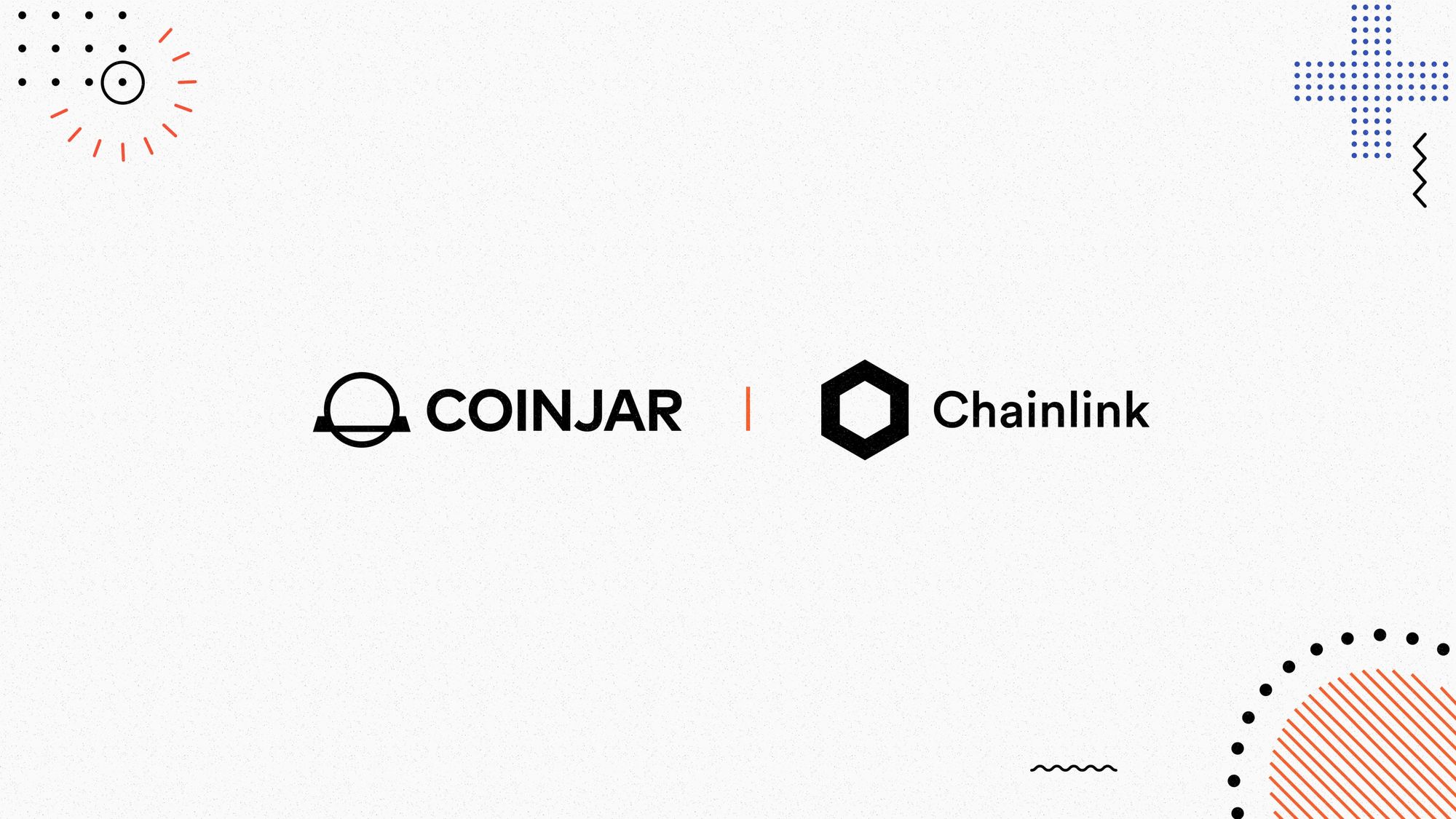 Today CoinJar is pleased to announce that it is integrating Chainlink Price Feeds to help bring globally accurate fair market rates to its cryptocurrency exchange. With Chainlink, CoinJar will be able to accurately display the prices of digital assets, assisting users in making better-informed decisions backed by tamper-proof data.
The CoinJar team chose to integrate Chainlink because its oracle solution is time-tested in bringing real-world data and computation on-chain. Chainlink already helps secure $75B+ for leading DeFi, CeFi, and other blockchain applications. Through Chainlink Price Feeds, CoinJar benefits from high-quality market data that will improve user experience on its digital asset platform, where fast and accurate market rates are essential in such a lightning-paced industry.
As one of the longest-running global digital currency exchanges, in operation since 2013, CoinJar's award-winning trading platform enables users to buy, sell, and spend cryptocurrencies with the CoinJar Card. Since its inception, over 500K users have traded $4B+ in assets on the platform, which has over $750M+ in assets under custody. CoinJar also features an OTC trading desk and an institutional offering to meet institutional users' growing demand for custom-tailored digital asset solutions. In the cryptocurrency industry, accurate market data is tantamount to great user experience, and Chainlink's alternative to traditional market data solutions assists CoinJar in driving value for customers.
Chainlink Price Feeds feature multiple layers of decentralisation and aggregation for ultimate performance and security assurances. Chainlink Price Feeds' decentralised architecture helps ensure hyper-accurate price reference data at all times—even during periods of extreme network congestion and market volatility. Other unique features of Chainlink Price Feeds include:
High-Quality Data — Chainlink Price Feeds source data from numerous premium data aggregators, leading to price data that are aggregated from hundreds of exchanges, weighted by volume, and cleaned from outliers and suspicious volumes. Chainlink's data aggregation model generates accurate global market prices that are resistant to API/exchange downtime, flash crash outliers, and data manipulation attacks.
High Update Frequency — Chainlink Price Feeds can perform frequent price updates at minimal costs, resulting in precise price data that consistently reflects current market conditions.
Robust Infrastructure — Chainlink Price Feeds utilise decentralised networks of professional node operators run by leading blockchain DevOps teams and traditional enterprises with a strong track record of uptime during market volatility.
Transparent Monitoring — Chainlink provides a robust reputation framework and set of on-chain monitoring tools that allow users to independently verify the historical and real-time performance of price feeds.
"Chainlink Price Feeds provide a superior alternative to maintaining our own price data solution or using other options that are subject to going offline," said Asher Tan, CEO of CoinJar. "We will continue to explore how we can leverage other Chainlink decentralised services to enhance the functionality and reliability of our digital assets exchange."
About Chainlink
Chainlink is the industry standard for building, accessing, and selling oracle services needed to power hybrid smart contracts on any blockchain. Chainlink oracle networks provide smart contracts with a way to reliably connect to any external API and leverage secure off-chain computations for enabling feature-rich applications. Chainlink currently secures tens of billions of dollars across DeFi, insurance, gaming, and other major industries, and offers global enterprises and leading data providers a universal gateway to all blockchains.
Learn more about Chainlink by visiting chain.link or reading the developer documentation at docs.chain.link. To discuss an integration, reach out to an expert.
About CoinJar
CoinJar is the simplest way to buy, sell and spend cryptocurrency. Founded in 2013, and operating in both Australia and the UK, our mission is to create best-in-class apps and products that make it easy for customers to access, use and invest in cryptocurrencies such as Bitcoin, Ethereum and more. This includes our market-leading CoinJar app with more than 200,000 downloads and our recently launched CoinJar Card Mastercard, the first Australian card to let you spend your crypto like cash.
---
Don't invest unless you're prepared to lose all the money you invest. This is a high‑risk investment and you should not expect to be protected if something goes wrong. Take 2 minutes to learn more: www.coinjar.com/uk/risk-summary.
Cryptoassets traded on CoinJar UK Limited are largely unregulated in the UK, and you are unable to access the Financial Service Compensation Scheme or the Financial Ombudsman Service. We use third party banking, safekeeping and payment providers, and the failure of any of these providers could also lead to a loss of your assets. We recommend you obtain financial advice before making a decision to use your credit card to purchase cryptoassets or to invest in cryptoassets. Capital Gains Tax may be payable on profits.​​
CoinJar's digital currency exchange services are operated in Australia by CoinJar Australia Pty Ltd ACN 648 570 807, a registered digital currency exchange provider with AUSTRAC; and in the United Kingdom by CoinJar UK Limited (company number 8905988), registered by the Financial Conduct Authority as a Cryptoasset Exchange Provider and Custodian Wallet Provider in the United Kingdom under the Money Laundering, Terrorist Financing and Transfer of Funds (Information on the Payer) Regulations 2017, as amended (Firm Reference No. 928767).