CoinJar Exchange levels up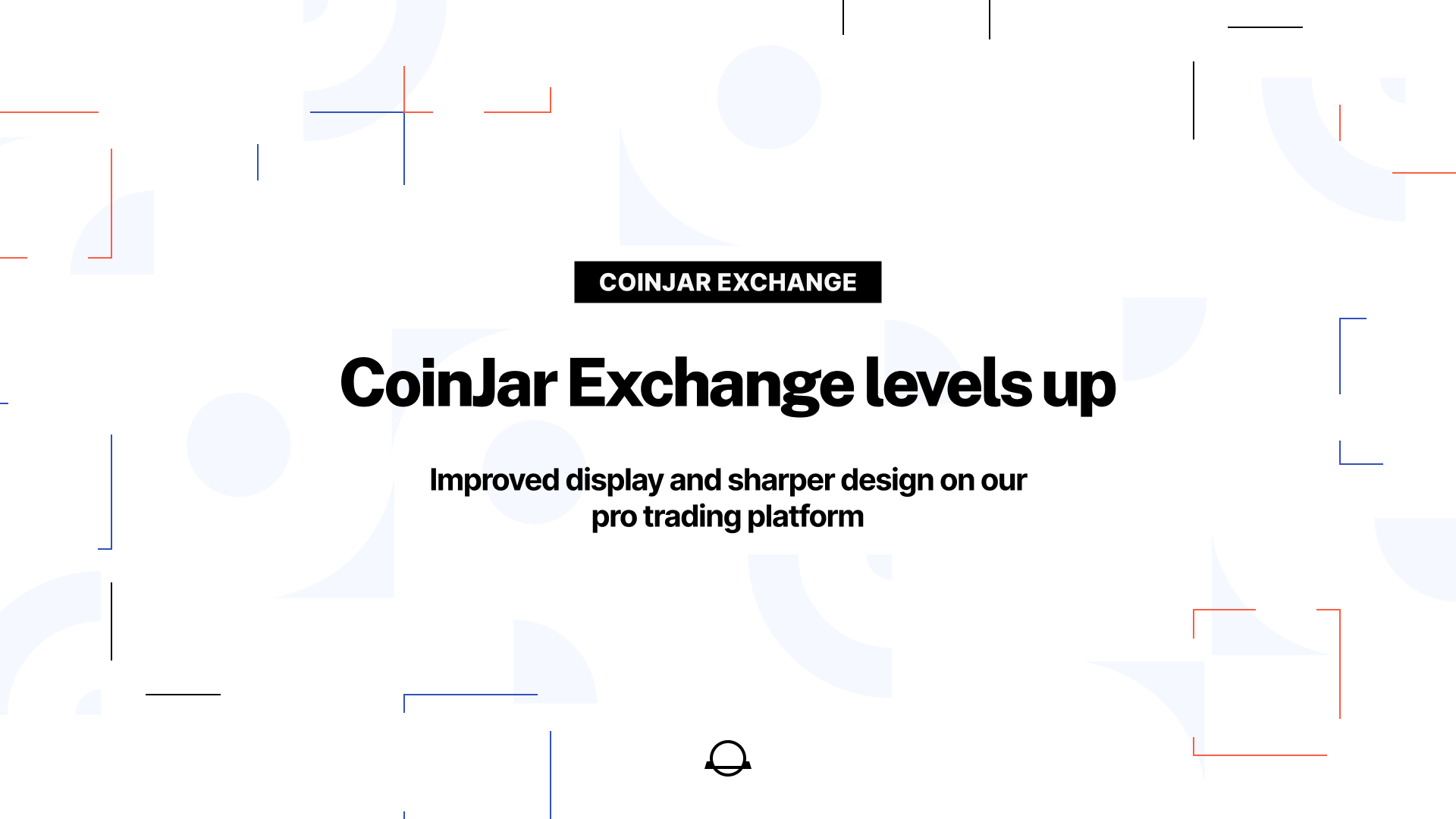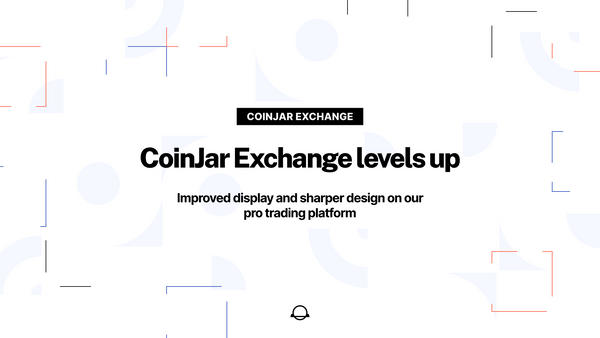 Improved display and sharper design on our pro trading platform
You spoke. We listened. Introducing the new, high-performance CoinJar Exchange.
We've made a host of tweaks and upgrades to our pro trading platform, including:
All new orderbook display.
Customisable, information-rich design.
Adaptive scrollbar for easier graph navigation.
Layout performance improvements.

Offering 125 AUD, GBP, BTC and USD stablecoin trading pairs, zero taker fees (and maker fees that start at a low 0.1%) and one of the fastest matching engines in the world, CoinJar Exchange can help you take your trading to the next level.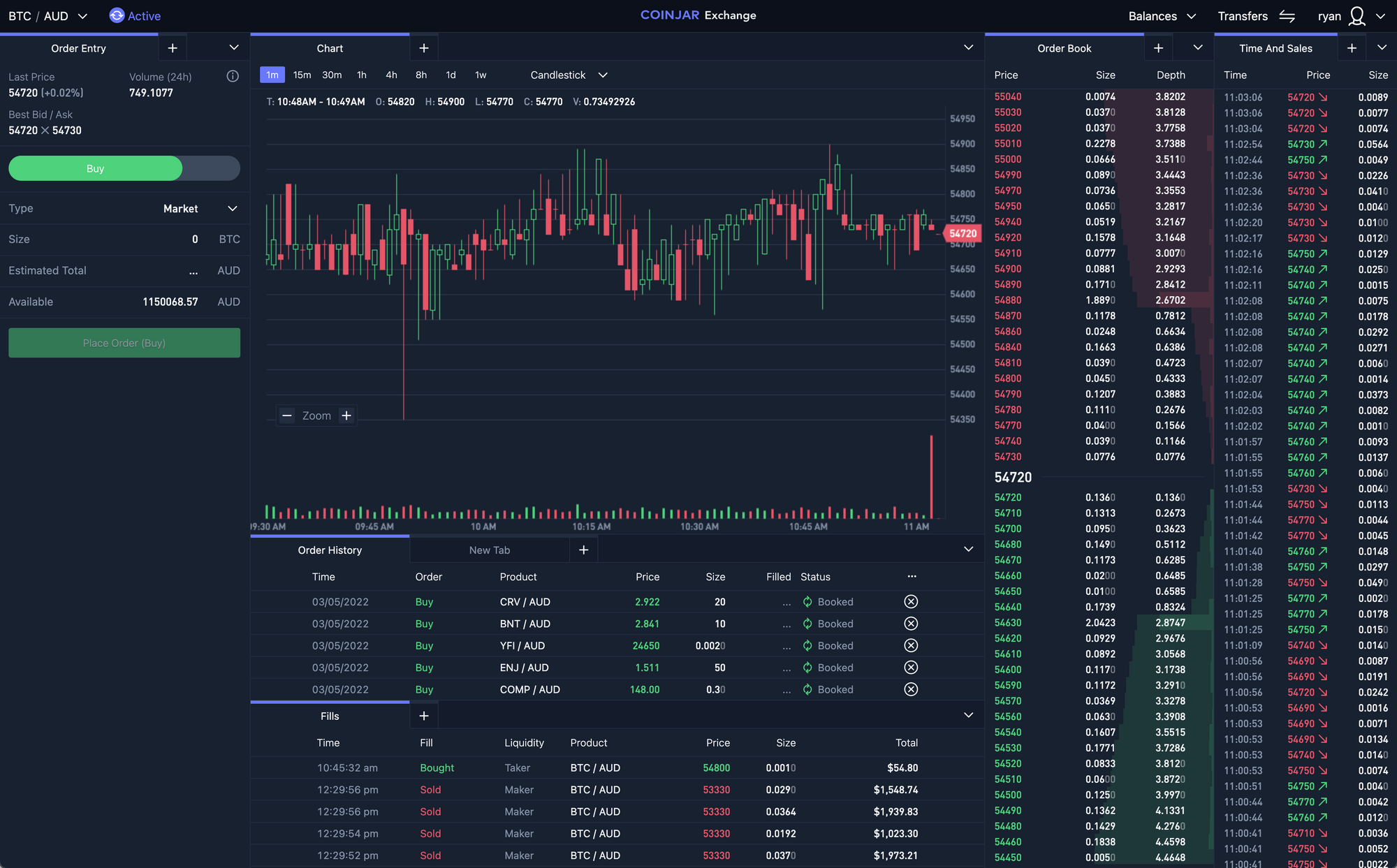 Getting started with CoinJar Exchange
If you haven't tried CoinJar Exchange before, simply login using your CoinJar account details. Click the Transfer button in the top right corner and you'll be able to instantly add funds from your CoinJar wallet to CoinJar Exchange.
All your trades are tracked with our transaction reporting systems and can be easily exported to tax reporting apps such as Cointracker, Koinly and CryptoTaxCalculator.
For more information on CoinJar Exchange, check out our dedicated Knowledge Base page.
Happy Trading!
CoinJar Team
​​CoinJar UK Limited is registered by the Financial Conduct Authority as a Cryptoasset Exchange Provider and Custodian Wallet Provider in the United Kingdom under the Money Laundering, Terrorist Financing and Transfer of Funds (Information on the Payer) Regulations 2017, as amended (Firm Reference No. 928767). Like all investments, cryptoassets carry risk. Due to the potential volatility of the cryptoasset markets, the value of your investments may fall significantly and lead to total loss. Cryptoassets are complex and are currently not financial products regulated by ASIC or the FCA, and you are not able to access the Australian Financial Complaints Authority (AFCA) or the UK Financial Service Compensation Scheme or the UK Financial Ombudsman Service in relation to any dispute with CoinJar relating to trading in cryptoassets. We use third party banking, safekeeping and payment providers, and the failure of any of these providers could also lead to a loss of your assets. We recommend you obtain financial advice before making a decision to use your credit card to purchase cryptoassets or to invest in cryptoassets. Profits may be subject to Capital Gains Tax.