Can We Get Much Higher?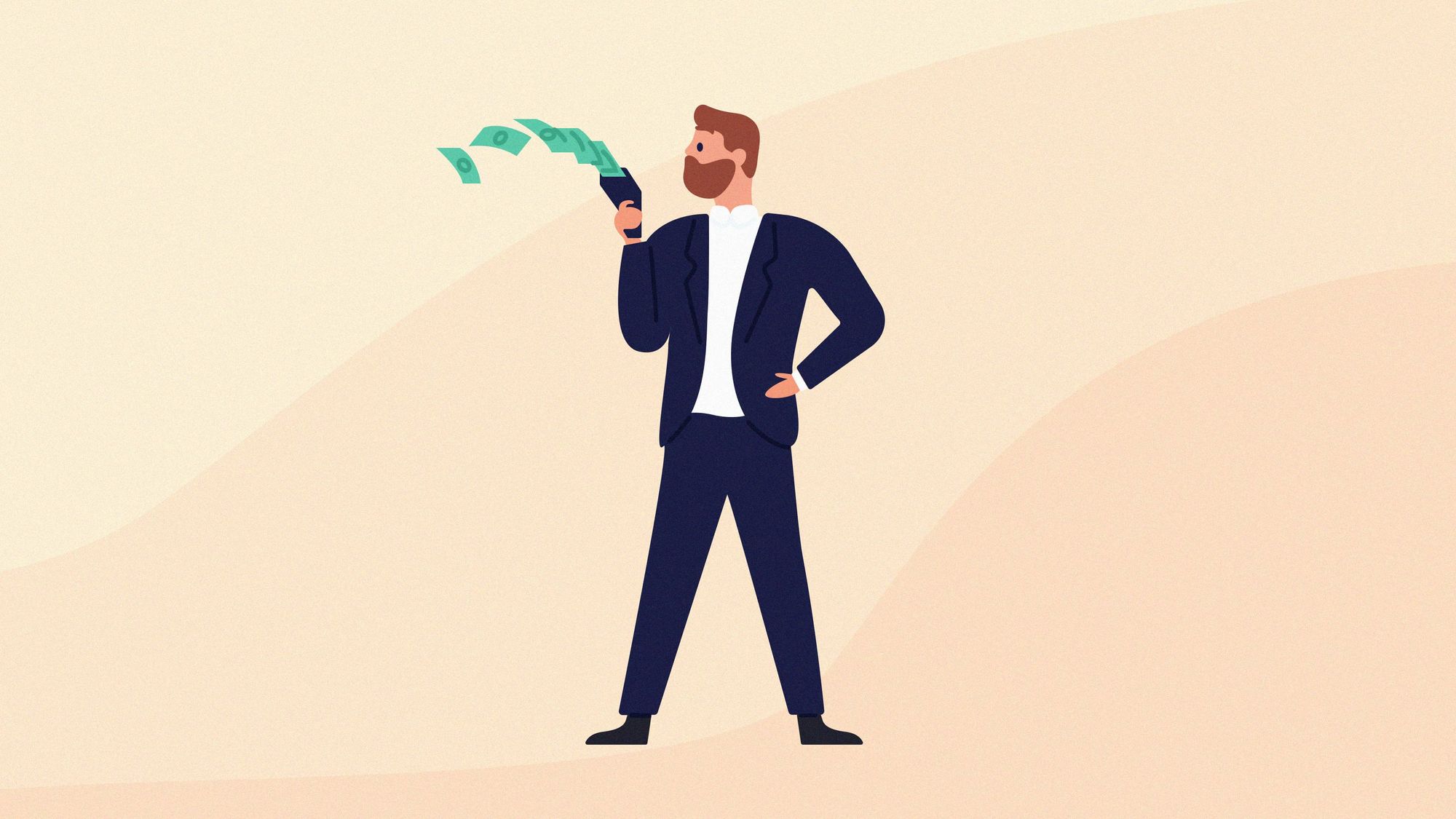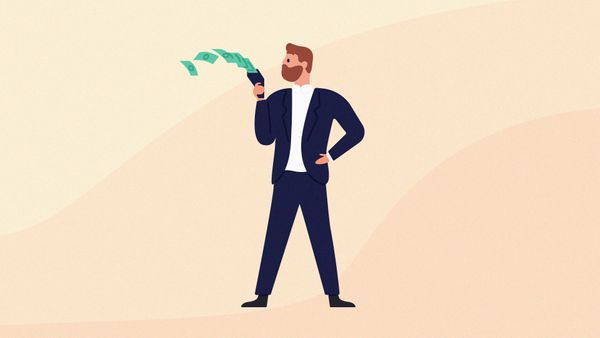 Bitcoin's market cap is at an all-time high. Think the ride is over? Nah, we're just getting started.
I mean, what is there to even say at this point? Bitcoin, as an asset class, has never been worth more – US$340 billion and counting. The price of one bitcoin is less than 10% away from its all-time high. There have only been a few days in bitcoin's entire history when it has been worth more than it is right now.
Billionaires are piling in. PayPal and Square are, between them, buying 110% of the new bitcoin supply. Famed crypto skeptics JPMorgan now think bitcoin could soon be worth more than US$140k. An analyst at Citibank reckons it will be closer to US$300k. ETF provider BlackRock – AUM US$7.3 trillion – says it could replace gold.
Well, where words fail, a GIF will often suffice. And today it's good to be able to use one of the BTC OGs.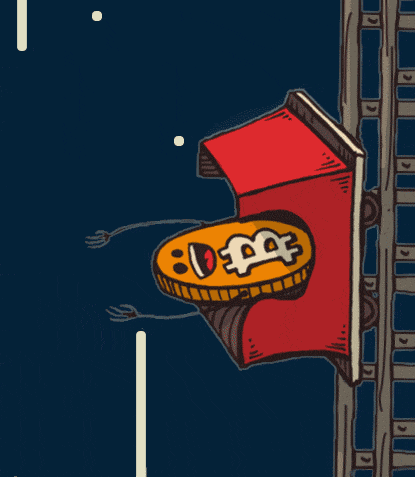 Onwards and upwards
From a psychological perspective, all-time highs are weird. Your first impulse is almost always to sell. Surely, you think, that ceiling is there for a reason; US$20,000 does seem like a lot of money. But breaking a new all-time high is actually one of the most reliable bullish indicators there is; money tends to follow money. Look at it this way: bitcoin didn't break its high from the 2013 bubble until February 2017, and we all know what happened next.
There will, of course, be corrections. Retracements are healthy and normal, even if at the time they feel like someone is slowly and purposefully driving a needle into your nail bed. If you're a long-term bitcoin/crypto holder, the best course of action would probably be to pretend that crypto doesn't exist for a year or so (besides continuing to dollar-cost average, of course). Everything that happens between now and then is just a distraction designed to shake you out of your position.
So, when will we know we've reached the moon? When is it time to claim our lambos? Maybe wait until you start seeing the first news articles about taxi drivers taking out massive loans to invest in crypto. Or for the New York Times to run another story like this. (Publication date: Jan 13, 2018).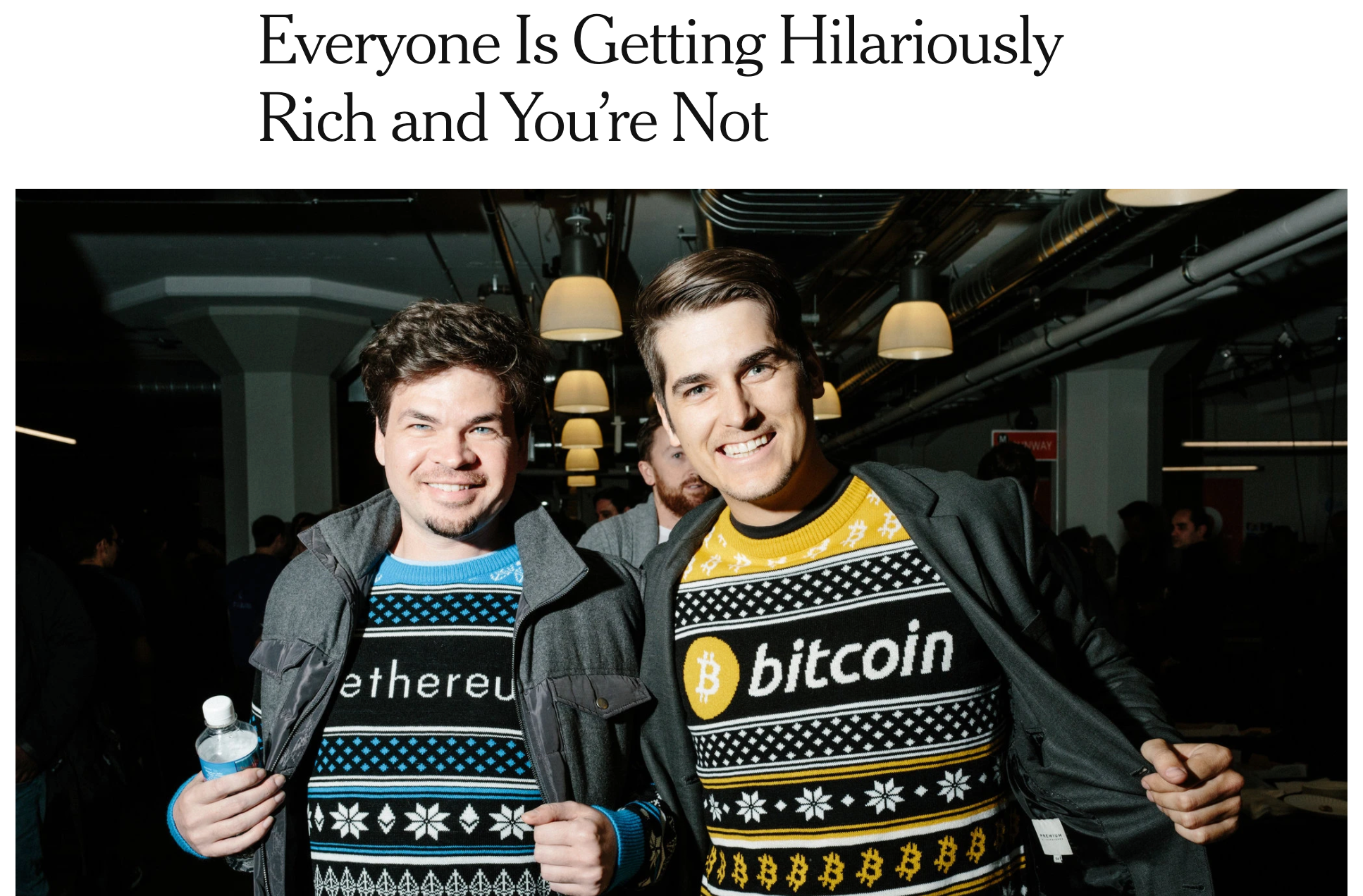 This is gentlemen
It's strange: the crypto community spent years making jokes about moon missions and lambos and HODLing because I think we all felt this base level insecurity about the whole damn project. Memes were a way of tacitly acknowledging that it was all a bit ridiculous. Surely the adults would be coming to shut the party down any moment now.
Well, I'm here to tell you that the adults have arrived. They've taken a good, long look around the room, assessed the mayhem and now they're chugging a big, fat beer bong while everyone cheers. Game on, moles.
Happy Trading!
Luke from CoinJar
We are not affiliated, associated, endorsed by, or in any way officially connected with any business or person mentioned in articles published by CoinJar. All writers' opinions are their own and do not constitute financial or legal advice in any way whatsoever. Nothing published by CoinJar constitutes an investment or legal recommendation, nor should any data or content published by CoinJar be relied upon for any investment activities. CoinJar strongly recommends that you perform your own independent research and/or seek professional advice before making any financial decisions.
---
Don't invest unless you're prepared to lose all the money you invest. This is a high‑risk investment and you should not expect to be protected if something goes wrong. Take 2 minutes to learn more: www.coinjar.com/uk/risk-summary.
Cryptoassets traded on CoinJar UK Limited are largely unregulated in the UK, and you are unable to access the Financial Service Compensation Scheme or the Financial Ombudsman Service. We use third party banking, safekeeping and payment providers, and the failure of any of these providers could also lead to a loss of your assets. We recommend you obtain financial advice before making a decision to use your credit card to purchase cryptoassets or to invest in cryptoassets. Capital Gains Tax may be payable on profits.​​
CoinJar's digital currency exchange services are operated in Australia by CoinJar Australia Pty Ltd ACN 648 570 807, a registered digital currency exchange provider with AUSTRAC; and in the United Kingdom by CoinJar UK Limited (company number 8905988), registered by the Financial Conduct Authority as a Cryptoasset Exchange Provider and Custodian Wallet Provider in the United Kingdom under the Money Laundering, Terrorist Financing and Transfer of Funds (Information on the Payer) Regulations 2017, as amended (Firm Reference No. 928767).