9 new cryptocurrencies are available for trading on CoinJar Exchange!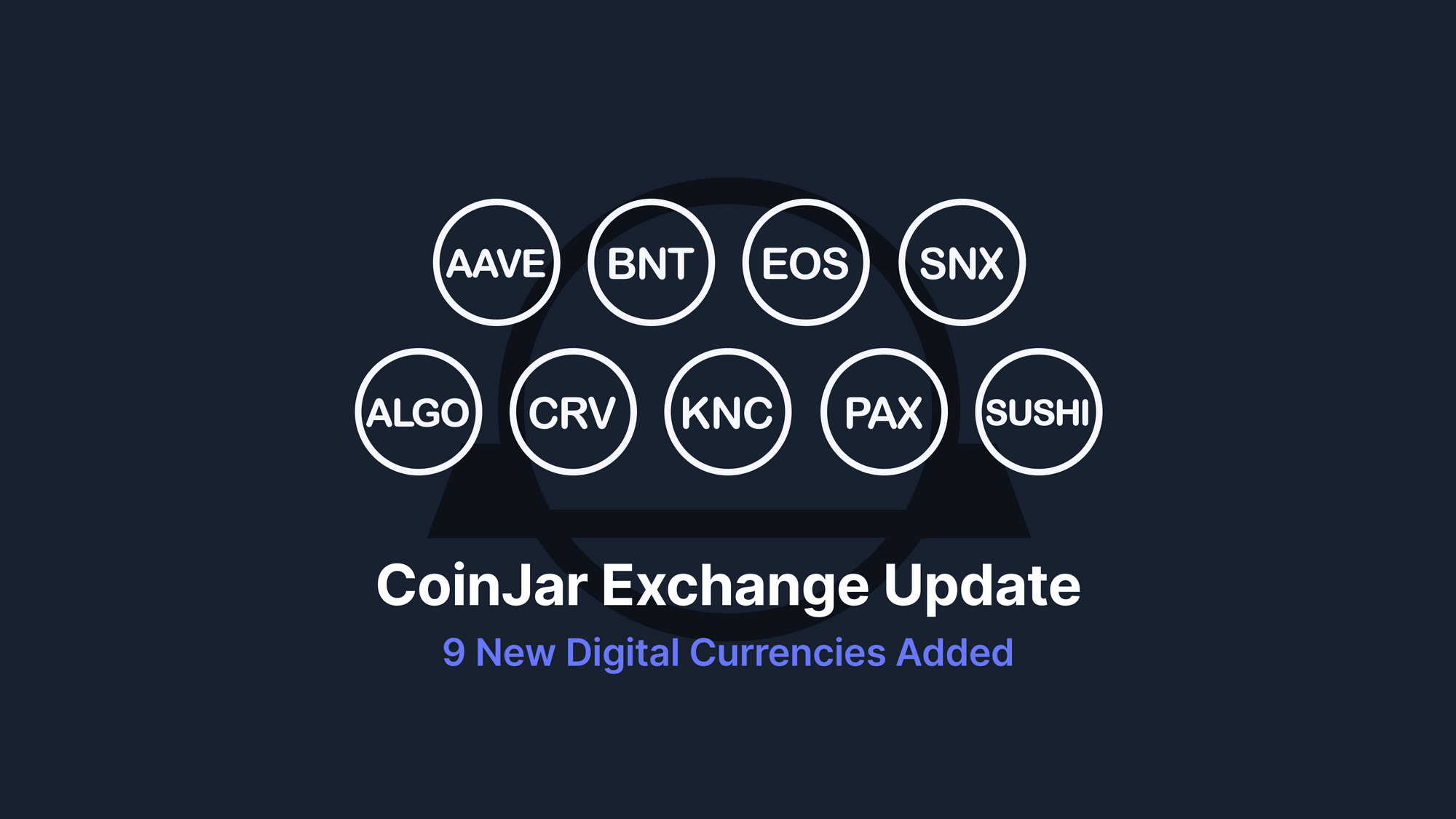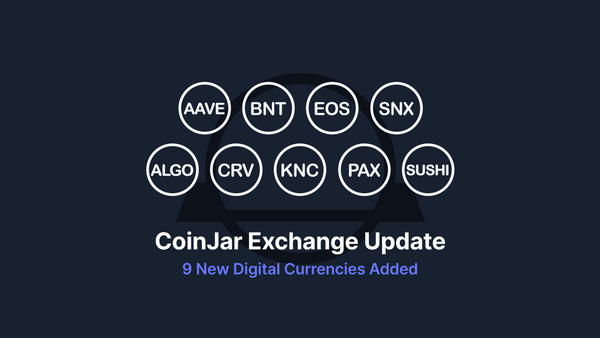 After adding AAVE, BNT, EOS, SNX, ALGO, CRV, KNC, PAX and SUSHI for trading on CoinJar, we are now excited to announce their arrival on CoinJar Exchange. The new tokens are included in the following trading pairs - bringing the total trading pairs to 94!
AAVE/AUD, AAVE/GBP, AAVE/BTC, AAVE/USDC
BNT/AUD, BNT/GBP, BNT/BTC, BNT/USDC
EOS/AUD, EOS/GBP, EOS/BTC, EOS/USDC
SNX/AUD, SNX/GBP, SNX/BTC, SNX/USDC
ALGO/AUD, ALGO/GBP, ALGO/BTC, ALGO/USDC
CRV/AUD, CRV/GBP, CRV/BTC, CRV/USDC
KNC/AUD, KNC/GBP, KNC/BTC, KNC/USDC
SUSHI/AUD, SUSHI/GBP, SUSHI/BTC, SUSHI/USDC
PAX/AUD, PAX/GBP, PAX/USDC
ETH/DAI
Aave (AAVE)
Aave is a decentralised finance protocol that allows people to lend and borrow crypto. Lenders earn interest by depositing digital assets into specially created liquidity pools. Borrowers can then use their crypto as collateral to take out a flash loan using this liquidity.
Algorand (ALGO)
Algorand is a self-sustaining, decentralised blockchain-based network that supports a wide range of applications. These systems are secure, scalable and efficient, all critical properties for effective applications in the real world. Algorand will support computations that require reliable performance guarantees to create new forms of trust.
Bancor Network Token (BNT)
Bancor consists of a series of smart contracts that manage that on-chain conversion of tokens. The protocol makes it effortless and quick to convert tokens without having to go through an exchange. The protocol's smart contracts manage the liquidity pools that connect various tokens available in the network.
Curve DAO (CRV)
Curve is a decentralised exchange for stablecoins that uses an automated market maker (AMM) to manage liquidity. Launched in January 2020, Curve is now synonymous with the decentralised finance (DeFi) phenomenon, and has seen significant growth in the second half of 2020. In August, Curve launched a decentralised autonomous organisation (DAO), with CRV as its in-house token.
EOS (EOS)
EOS is a platform that allows developers to build decentralised apps and provides immense support with a range of educational resources to help build functional apps quickly. EOS also delivers greater levels of scalability than other blockchains, some of which can only handle a dozen transactions per second.
Kyber Network (KNC)
Kyber Network is an on-chain liquidity protocol that aggregates liquidity from various sources to provide secure and instant transactions on any decentralised application (DApp). The main goal of Kyber Network is to enable DApps, decentralised exchanges (DEXs) and other users easy access to a liquidity pool that provides the best rates.
Paxos Standard (PAX)
Paxos Standard is a fiat-collateralised stablecoin. It's issued as an ERC-20 token on the Ethereum blockchain and are collateralised 1:1 through the USD held in Paxos-owned US bank accounts.
SushiSwap (SUSHI)
SushiSwap is an example of an automated market maker (AMM). AMMs are decentralised exchanges which use smart contracts to create markets for any given pair of tokens. SushiSwap aims to diversify the AMM market and add additional features not previously present on UniSwap, such as increased rewards for network participants via its in-house token, SUSHI.
Synthetix Network Token (SNX)
Synthetix is a decentralised finance (DeFi) protocol that provides on-chain exposure to a wide variety of crypto and non-crypto assets.The protocol is based on the Ethereum blockchain and offers users access to highly liquid synthetic assets (synths). Synths track and provide returns on the underlying asset without requiring one to directly hold the asset.

What's the difference between CoinJar Exchange and CoinJar?
CoinJar Exchange is an advanced digital currency exchange that supports high-frequency, low-latency execution for experienced traders. CoinJar Exchange provides more control over buying and selling digital currency, such as the ability to set the order buy and sell prices, and offers lower trading fees.
CoinJar Exchange also offers a Trading API to manage your accounts, orders and trades.
If you want to learn more about CoinJar Exchange, you can read our dedicated Knowledge Base article, explore the CoinJar Exchange interface or take your first steps towards using CoinJar Exchange.
If you have any further questions, please feel free to reach out to CoinJar Support.
CoinJar Team
---
Don't invest unless you're prepared to lose all the money you invest. This is a high‑risk investment and you should not expect to be protected if something goes wrong. Take 2 minutes to learn more: www.coinjar.com/uk/risk-summary.
Cryptoassets traded on CoinJar UK Limited are largely unregulated in the UK, and you are unable to access the Financial Service Compensation Scheme or the Financial Ombudsman Service. We use third party banking, safekeeping and payment providers, and the failure of any of these providers could also lead to a loss of your assets. We recommend you obtain financial advice before making a decision to use your credit card to purchase cryptoassets or to invest in cryptoassets. Capital Gains Tax may be payable on profits.​​
CoinJar's digital currency exchange services are operated in Australia by CoinJar Australia Pty Ltd ACN 648 570 807, a registered digital currency exchange provider with AUSTRAC; and in the United Kingdom by CoinJar UK Limited (company number 8905988), registered by the Financial Conduct Authority as a Cryptoasset Exchange Provider and Custodian Wallet Provider in the United Kingdom under the Money Laundering, Terrorist Financing and Transfer of Funds (Information on the Payer) Regulations 2017, as amended (Firm Reference No. 928767).