Aave, Curve, EOS, Sushiswap, Synthetix & 4 other new digital currencies are now available for trading on CoinJar!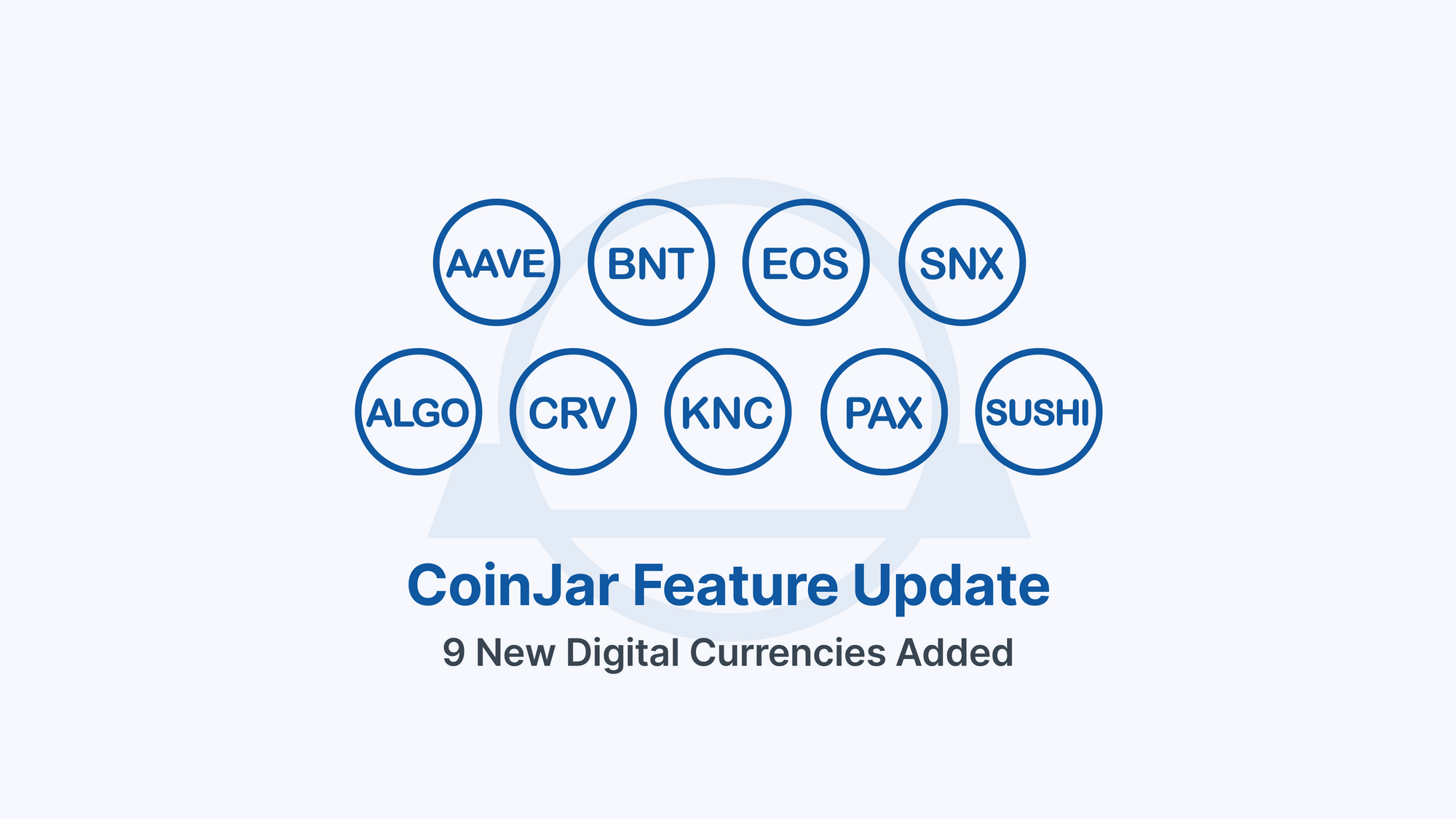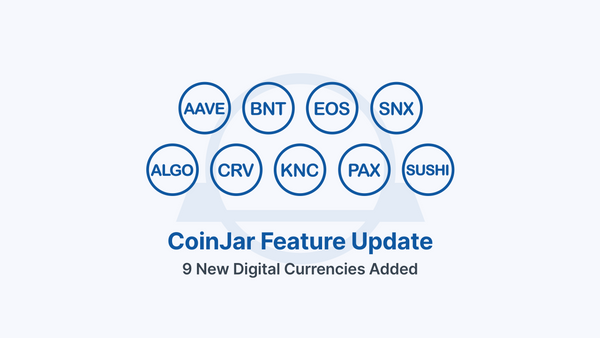 We're thrilled to welcome 9 new tokens and digital currencies to the CoinJar lineup -- the most we've ever introduced in a new update:
Aave
Algorand
Bancor Network Token
Curve DAO
EOS
Kyber Network
Paxos Standard
Synthetix Network Token
SushiSwap

From today, these will be available to buy and sell through the CoinJar platform and complement our ever-growing lineup of digital currencies and tokens that members can send, receive and store using CoinJar.
Please ensure that you have updated your iOS or Android app before you buy or transfer the new tokens. Especially as one of our new cryptocurrencies, EOS, requires a memo ID for receiving funds that will only be available after you update the app. If you fail to update your app prior to transacting EOS, the funds you sent may be lost.
These digital currencies will not be available for purchase through CoinJar Bundles or on CoinJar Exchange at launch and will be added at a future date.  
Algorand
ALGO is the native token of Algorand. Algorand is a permissionless and decentralised public blockchain with low transaction fees. The Algorand project is unique as it aims to solve the Blockchain Trilemma -- in other words, the balance between security, scalability and decentralisation.
EOS
EOS is the governance token of EOSIO. EOS is a decentralised blockchain that processes fast and free transactions, with the infrastructure allowing for smart contracts to be built on top of the blockchain and enabling developers to release dApps -- similar to Ethereum. EOS utilises the delegated proof of stake consensus model for a more efficient system and fast transaction speeds.
Paxos Standard
PAX is an ERC-20 stablecoin built on the Ethereum blockchain. Paxos Standard is unique as the digital currency is tied to the US Dollar with a 1:1 collateral, issued by the Paxos Trust Company and regulated by the New York State Department of Financial Services. As a digital dollar, Paxos Standard minimises risk while capitalising on frictionless and instantaneous blockchain technology.
Aave
AAVE is the ERC-20 governance token of the Aave protocol. It is an Ethereum based, open source DeFi protocol that allows users to earn interest on deposits and borrow assets. Aave is unique as it challenges the traditional lending systems of banks within a decentralised, peer to peer ecosystem.
Synthetix Network Token
Synthetix Network Token (SNX) is an ERC-20 token native to Synthetix. Synthetix is a protocol for issuing and trading synthetic assets on the Ethereum blockchain, allowing for assets like stocks, fiat currencies and precious metals to be bought and traded using crypto. SNX powers the Synthetix protocol by acting as collateral for synthetic assets, enabling the protocol to support instantaneous and frictionless conversion between varieties of Synths without the liquidity issues faced by other decentralised exchanges.
Kyber Network
Kyber Network Crystals (KNC) is the governance token of the Kyber Network. Kyber Network is a decentralised protocol built upon the Ethereum blockchain that aggregates liquidity and allows the exchange of tokens without intermediaries. Kyber Network can be integrated into crypto wallets, DeFi platforms and dApps, which provides liquidity to allow for instant token swaps without the use of a trusted third party.
Curve DAO
Curve DAO (CRV) is an ERC-20 governance token for Curve's decentralised autonomous organisation (DAO), launched in August 2020. Curve is a decentralised exchange primarily for stablecoins that utilises an automated market maker (AMM) to manage liquidity which is built upon the Ethereum blockchain. As a DAO, the protocol's management has been handed over to the community and holders can participate in Curve's decision-making process through a time-weighted voting system.
Bancor Network Token
Bancor (BNT) is the intermediary token used by Bancor to initiate exchanges. BNT is both an ERC-20 token and EOS token.  Bancor is a protocol built upon the Ethereum blockchain that enables users to convert different currency tokens instantaneously and directly through a decentralised financial network. By using Ethereum's smart contracts platform, Bancor gives immediate liquidity to any ERC-20 token without using an exchange, regardless of the number of buyers, sellers and trade volume.
SushiSwap
SushiSwap (SUSHI) is an ERC-20 token which powers the SushiSwap's function as an automated market maker (AMM), launched in September 2020 as a fork of Uniswap. SushiSwap is a decentralised exchange that utilises smart contracts to create markets for any given pair of tokens. SushiSwap removes middlemen during financial exchanges and uses SUSHI as an incentive for users, thereby tackling the issue of liquidity faced by traditional decentralised exchanges.

Happy Trading!
---
Don't invest unless you're prepared to lose all the money you invest. This is a high‑risk investment and you should not expect to be protected if something goes wrong. Take 2 minutes to learn more: www.coinjar.com/uk/risk-summary.
Cryptoassets traded on CoinJar UK Limited are largely unregulated in the UK, and you are unable to access the Financial Service Compensation Scheme or the Financial Ombudsman Service. We use third party banking, safekeeping and payment providers, and the failure of any of these providers could also lead to a loss of your assets. We recommend you obtain financial advice before making a decision to use your credit card to purchase cryptoassets or to invest in cryptoassets. Capital Gains Tax may be payable on profits.​​
CoinJar's digital currency exchange services are operated in Australia by CoinJar Australia Pty Ltd ACN 648 570 807, a registered digital currency exchange provider with AUSTRAC; and in the United Kingdom by CoinJar UK Limited (company number 8905988), registered by the Financial Conduct Authority as a Cryptoasset Exchange Provider and Custodian Wallet Provider in the United Kingdom under the Money Laundering, Terrorist Financing and Transfer of Funds (Information on the Payer) Regulations 2017, as amended (Firm Reference No. 928767).