What you need to know about CoinJar Swipe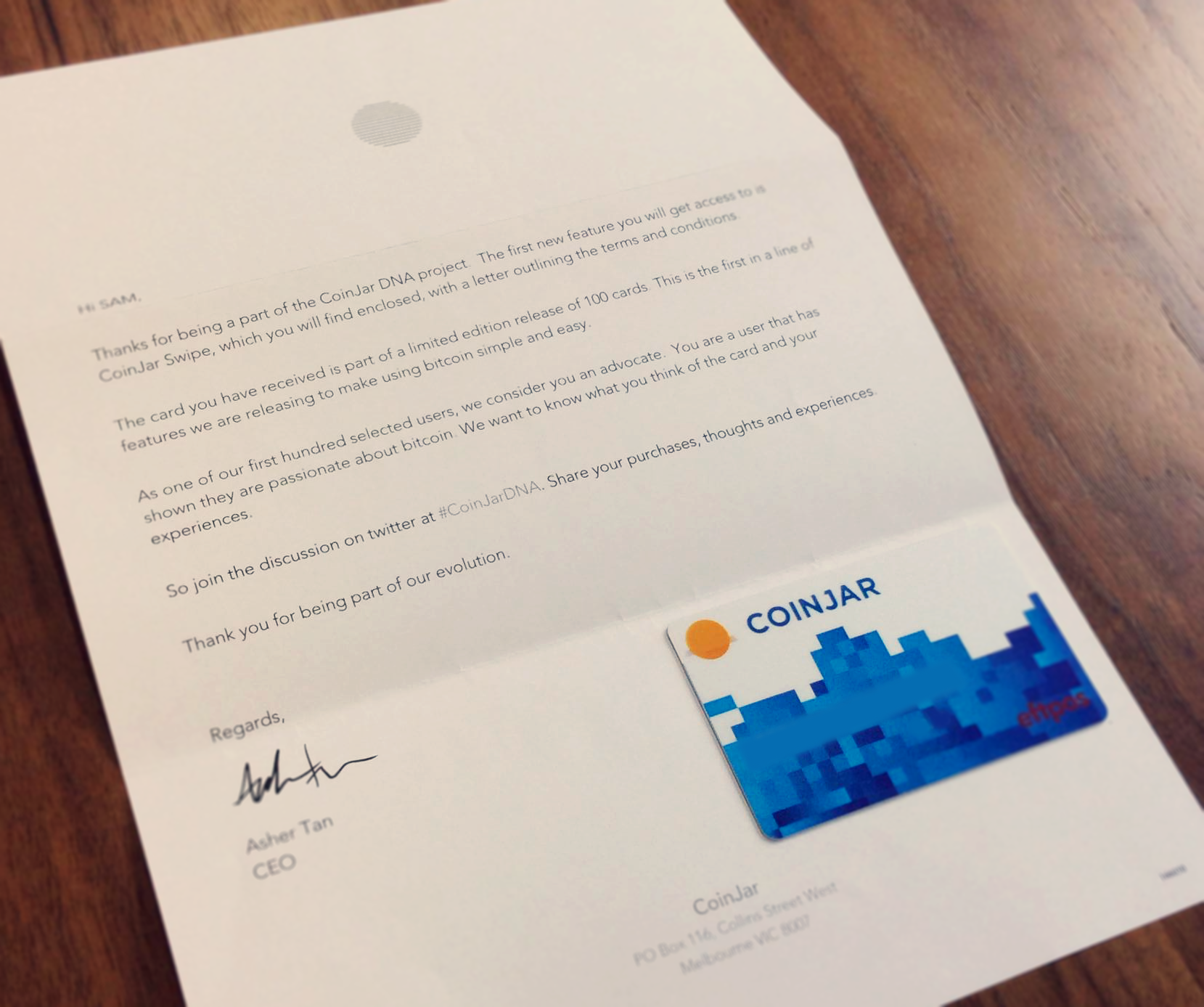 Update: Limits have increased on CoinJar Swipe. Please refer to our Knowledge Base article.
We're excited to release CoinJar Swipe cards to a hundred lucky members of our early access program, CoinJar DNA. As we roll out Australia's first bitcoin EFTPOS card, here's what you need to know to get swiping.
Swipe lets you spend bitcoin seamlessly
Swipe works by converting the bitcoin from your CoinJar balance into Australian Dollars.
Swipe can be used anywhere that accepts EFTPOS in Australia
You can spend your bitcoin to buy everyday items like your groceries. You can also convert your bitcoin to cash at any ATM or store that provides cash-out.
Key Information
Withdrawal limits
10 Withdrawals per 24 hour period
$500 limit per 24 hour limit (combination of payments and withdrawals).
Schedule of Fees
Ordering: $29/card, free for the first card of DNA members
Pre-load: Swipe applicants are required to pre-load their card with $20 to complete their order.
Activation: Free
Loading bitcoin onto CoinJar Swipe: No fee. Conversions are subject to CoinJar's exchange rate.
Loading currency (e.g. AUD) onto CoinJar Swipe: 1% fee. Conversions are subject to CoinJar's exchange rate.EFTPOS Purchase: Free
EFTPOS Cash-out: Free
ATM (Non-rediATM): ATM operator charges a fee.
ATM (rediATM): $2 per transaction.
Inactivity fee: $4/month charged after 180 days of inactivity. Reimbursed by CoinJar (contact CoinJar Support).
Disputed transaction fee: $10/incident
Swipe has no transaction fees on purchases
You will not be charged any transaction fees for using Swipe – no activation fees, no load fees, no conversion rates (subject to CoinJar Fair Rate policy), no inactivity fees.
While these fees may appear on your statement, CoinJar will be absorbing these costs because we want our users to experience the power of bitcoin and spend it freely.
Using your Swipe to withdraw Australian dollars
Swipe has a $2 ATM fee at any rediATM. Non-rediATMs will have their own fees. However, Swipe has no withdrawal fees when being used to withdraw at Coles and Woolworths.
Swipe cards will come with a product disclosure statement that goes into more detail about fees for loading and spending.  You may see fees outlined there, however we are absorbing these costs to make this a better experience for you.
It does cost $29 to order a Swipe card, however we've waiving this fee for a limited time for CoinJar DNA members only.
Swipe lets you control your money
You have the freedom to choose how and when you'd like to use your Swipe card.
You can top up your Swipe in your CoinJar. Simply choose how much AUD balance you want on your card and confirm, CoinJar does the rest. You can also set a minimum balance, so that it automatically tops up your card as you spend.
Swipe is just the beginning…
Our team at CoinJar work to make digital finance accessible to everyone through simple, secure and useful tools and products.
Swipe is just one of the many ways we're looking to empower our users to manage their wealth.